First paper Partially Funded by 3DNET-IAPP Grant Published
What a better way of coming back after summer break than celebrating the first paper published partially funded by 3DNET?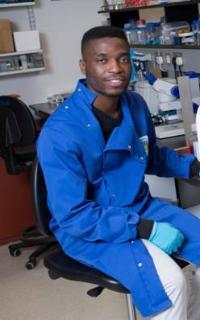 ‌ Temmy Sasore (pictured) is a PhD student in Dr. Breandán Kennedy's lab, and one of the Curie Fellows seconded to the Industry partner KalVista, in the UK.
Congratulations to Temmy and Breandan for their publication today in PLOS ONE. This article is the first grand achievement in 3DNET and makes a new little step towards the development of novel antiangiogenic therapies to treat ocular disease.

Publication Details:
Deciphering Combinations of PI3K/AKT/mTOR Pathway Drugs Augmenting Anti-Angiogenic Efficacy In Vivo
Temitope Sasore, Breandán Kennedy
Published: August 21, 2014
DOI: 10.1371/journal.pone.0105280