Harry Kehoe conferred with UCD honorary degree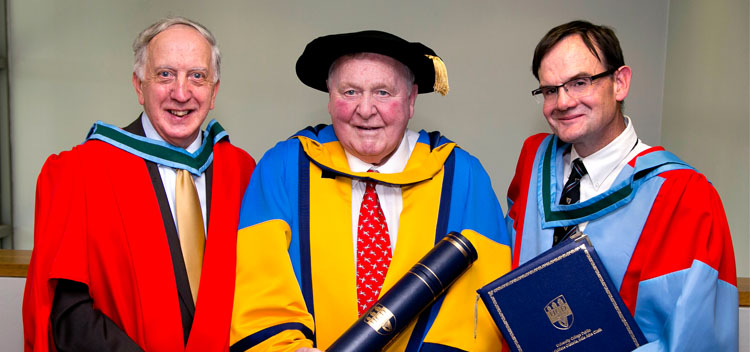 Pictured at the conferring were Professor Jimmy Burke, Harry Kehoe and Professor Alex Evans, Dean, UCD School of Agriculture & Food Science.
At the recent Agriculture, Food Science and Human Nutrition Conferring Ceremony on 5th September 2016, UCD acknowledged the the outstanding role Harry Kehoe has played in plant genetics and plant breeding in Ireland by conferring on him the title of Honorary Doctor of Science.
Harry attended UCD studying Agricultural Science and he graduated in 1958 with a Bachelors of Agricultural Science. During Harry's career he produced more than 35 potato varieties, many of which were outstandingly successful at home and abroad. In more recent years he bred the variety Rooster which now accounts for 65% of all potatoes grown in Ireland and are also used in the United Kingdom, Scotland and elsewhere around the World.
During the citation read at the Ceremony, UCD Professor of Crop Science Jimmy Burke, said "The development of Ireland's Agriculture and Food industry is probably the classic example of how well educated graduates like Harry Kehoe can develop usable technology that can transform an industry and bring real benefits to the agri food industry, and the wider economy. Plant breeding has permeated Harry's life and many in Ireland and abroad have benefitted from his knowledge and expertise. Harry's achievements show that by striving for new knowledge, adopting good scientific methods, and by sticking to his research goals, he and his team delivered new knowledge that had impact."