Findings of the Agri-Food Strategy Group Synthesis Report are launched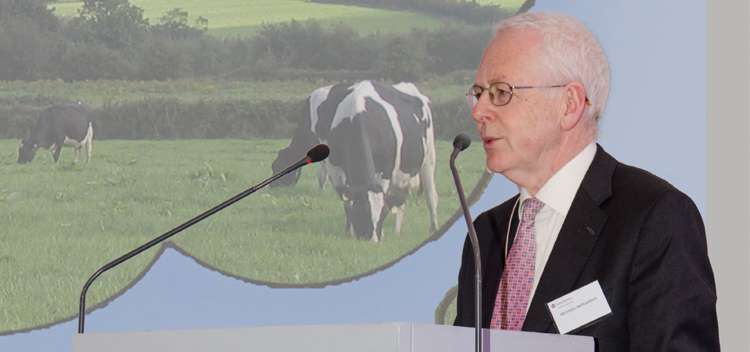 Farm expansion is not sufficient to ensure the development of an agri-food industry that is both internationally competitive and sustainable. In addition to getting bigger, farmers need to get better.
That's the view of the Agri-Food Strategy Group whose Synthesis Report was formally launched by European Commissioner for Agriculture and Rural Development, Mr. Phil Hogan, at the Agri-Food Strategy Conference in Dublin on 23rd October 2015.
Launching the Synthesis Report, Commissioner Phil Hogan, commented, "As EU Commissioner, I am always encouraged when Member States take the initiative to prepare their farmers and agri-food sectors for the 21st Century. This is a time of great change in the sector, with both challenges and opportunities appearing from all angles. Those who prepare themselves best today will reap the benefits tomorrow."
This ethos underpins the Synthesis Report, and indeed all the work done by the Agri-Food Strategy Group. Many of your core themes - from financial sustainability to food chain integration, from environmental resilience to research and innovation – overlap with my own ambitions for the reformed CAP."
Delegates also heard from Professor Michael Monaghan, Vice-President for Development, UCD College of Health and Agricultural Sciences, who argued that, "To become more competitive in international markets, Irish agriculture will need to raise its technical and business capacities and the marketable quality of its produce, to ensure both its environmental sustainability and future economic success. To achieve these twin goals, our report calls for significant investment at both EU and Member State levels in the development of Sustainably-Competitive food production systems."
A re-shaped Common Agriculture Policy (CAP) was also discussed as the most appropriate policy framework to incentivise a radical shift and widening of agri-food objectives. Director General of the Institute of International and European Affairs, Tom Arnold stated, "We identified two immediate goals for a re-shaped CAP. Firstly, the issue of an adequate response by the agri-food sector to Climate Change and secondly, some sort of safety net is urgently needed to protect food supply systems from the wilder excesses of price fluctuation on open markets. Since the removal of production quotas, farmers all over Europe now clearly understand this need."
Grant Thornton's Pat Burke pointed out that not everything identified by the Agri-Food Strategy Group is dependent on actions by Brussels. He noted that, "Much lies within the remit of the Irish agri-food sector. The current Irish food production business model lacks significant alignment; it distributes reward across the supply chain without reference to assets employed, financial and operating risks, or responsibility for regulatory compliance. A national aligned business model would ensure that resources are allocated efficiently, and that risks and rewards are shared appropriately. Such mutual interdependence would ensure economic survival and sustainability."
Former Teagasc Director Professor Liam Downey concluded the conference by highlighting that, "Perhaps the most important longer-term strategy advocated in the Agri-Food Strategy Report, is its call for a re-appraisal of educational and training provisions throughout the Sector. This is needed to ensure that the next generation of farmers and agriculturalists are better equipped to deal with increasingly complex business management decisions and multi-dimensional technical demands in the industry."
The Agri-Food Strategy Group is a collection of agri-food experts and policy strategists who came together informally and in a voluntary capacity in 2014. The outcome of their collaboration formed the basis of the Synthesis Report launched this morning at the Agri-Food Strategy Conference in Dublin. Their objective was to provide strategic responses to the formidable array of challenges and uncertainties facing agriculture and food production and initiate a general debate on these issues.
The Agri-Food Strategy Group's Synthesis Report draws conclusions to provide an objective and constructive contribution to an important national debate concerning the improved performance of Irish agriculture in all its economic, societal and environmental dimensions.
Related links