UCD Agricultural Science society "AgSoc" raises a record-breaking €65,000 for two charities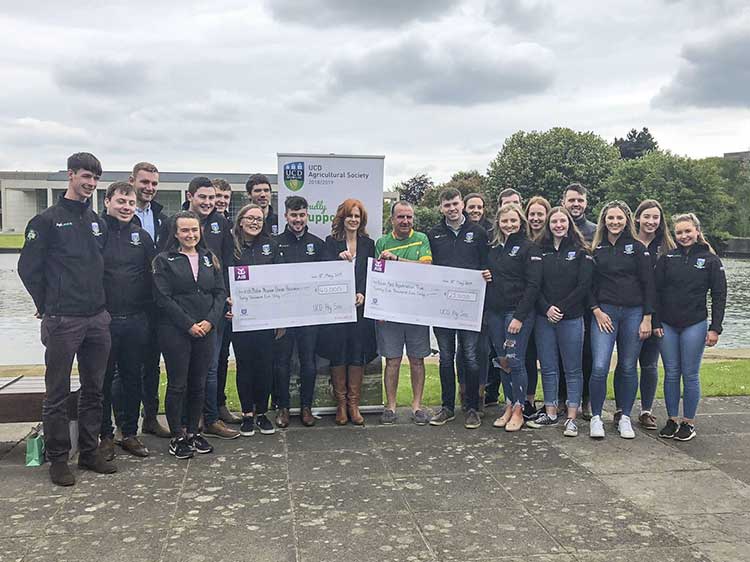 UCD's Agricultural Science student society presents funds to the Irish Motor Neurone Disease Association (IMNDA) and the Kevin Bell Repatriation Trust on Saturday 18thMay 2019.
The IMNDA has received a donation of €40,000, while the Kevin Bell Repatriation Trust was the recipient of €25,000.
The combined donations are the largest sum of money raised by AgSoc to date, according to the group's auditor Michael Geary. The money was raised as a result of various social and educational events organised throughout the year.
Michael Geary said "I would like to thank students and members of the extended agricultural community for supporting the society's work."
AgSoc's primary objective is to provide an opportunity for students with a common interest to come together, make friends and build networks while studying at UCD. AgSoc's calendar of events and fundraising activities has grown steadily in recent years. This year nearly 20 events and initiatives were held including "Ag Week" and Careers Day.
Last year the student society donated €60,000 to 22q11 Ireland and Pieta House and in 2017 €50,000 was donated to Cystic Fibrosis and Embrace FARM.
AgSoc is run by a voluntary committee of 27 students and was first established at University College Dublin in 1923. AgSoc is one of the largest societies at University College Dublin, with over 1000 members registered for this academic year and has a long history of donating substantial sums to worthy causes.