Employers LOVE School of Agriculture and Food Science students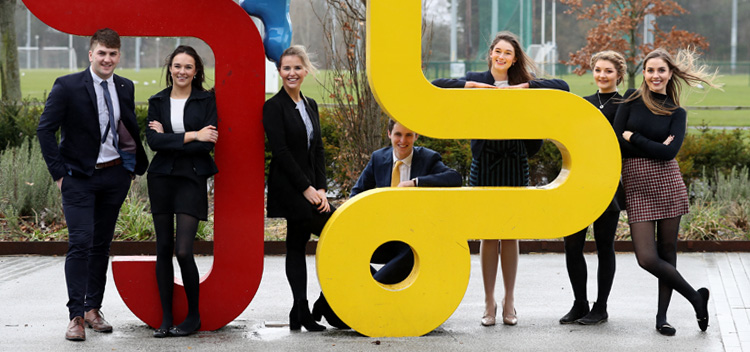 There was a lot of love in the air at UCD Agriculture, Food Science and Human Nutrition Careers Day on Wednesday, 14th February (Valentines Day) with a record number of exhibitors in attendance. This annual event organised by final year UCD School of Agriculture and Food Science students took place at the UCD Astra Hall following a keynote address delivered by Minister of Agriculture, Food and Marine, Michael Creed TD in the spectacular FitzGerald Debating Chamber.
UCD Dean of Agriculture, Professor Alexander Evans chaired proceedings and began by congratulating final year students and employers for organizing such a professional and impressive day. "This fantastic event is testament to the enthusiasm and commitment that both students and employers have to the agriculture and food industries both at home and further afield. I hope our final year students will make the best of the many opportunities that will come their way, and encourage them to make the biggest impact possible, to continue learning and also to engage with what they enjoy."
Minister Creed provided a stimulating address, which received a rapturous round of applause that highlighted both the opportunities and challenges facing the sector. Minister Creed acknowledged the important contribution of UCD School of Agriculture and Food Science graduates to Ireland's agri-food sector and his optimism, following discussions with students from the Class of 2018, that Ireland's agri-food sector would continue to flourish "Your research led educational experience at UCD provides a breadth and depth to your studies that will equip you with the knowledge, skills, experience and attitude to thrive in the workplace of today and succeed in the workplace of the future."
William Coffey, Chair of the UCD Agricultural Science Careers Committee thanked each of the 44 exhibitors in attendance for their support with Careers Day 2018 and he also wished his classmates every success with their careers following completion of their studies at UCD. "The number of exhibitors present is a further sign that Ireland's agri-food sector is in an excellent position. To my fellow final year students, the past four years has been a great experience to share with you all. I wish you every success and happiness in the future and I hope today is rewarding and valuable to each and every one of you." Organisations such as Teagasc, Dawn Meats, FRS Recruitment, Grant Thornton, Kerry, ABP, Agriland and many others packed the Astra Hall located in the state of the art UCD Student Centre.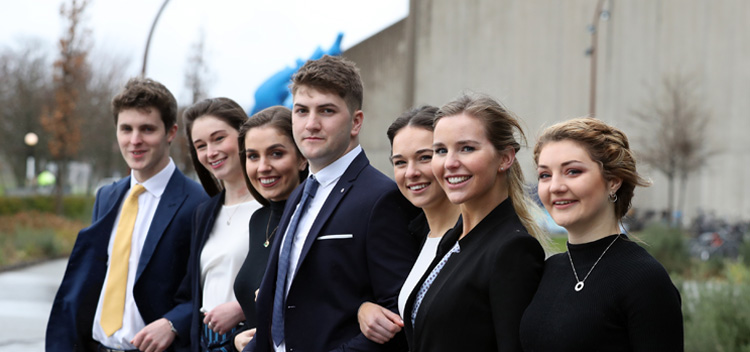 William Coffey (centre) joined by classmates (L-R) Robert Moore, Hazel Dardis, Cara Yelveron, Nicole Groyer, Kate Jennings and Rachel Lane
Dr. Karina Pierce, Past President of the Agricultural Science Association (ASA) delivered the final address of the morning. The ASA is a voluntary organisation and is the professional body for graduates in agricultural, horticultural, forestry, environmental and food science. On Tuesday, 13th February members of the association conducted a very positive and valuable Mock Interview Series with more than seventy final year UCD Agriculture and Food Science students. The winners were: Aoife Leader (Cork), Barry Cassidy (Meath), David Kelly (Kildare), Eoghan Hennessy (Westmeath), Gavin Hunt (Cork), Kate McCarthy (Clare), Martin Farrelly (Cavan) and Nicole Groyer (Dublin). Commenting on the mock interviews Dr Pierce said "I would like to thank the members of the ASA Council who coordinated, organised and facilitated the extensive number of mock interviews at UCD yesterday and also congratulate each of the 9 winners who performed to a particularly high standard this year."
Related links
Download 2018 Graduate Handbook
Supported Masters (MAgrSc) in Agricultural Extension and Innovation (part-time distance learning)