Farm Walk and Talk 2018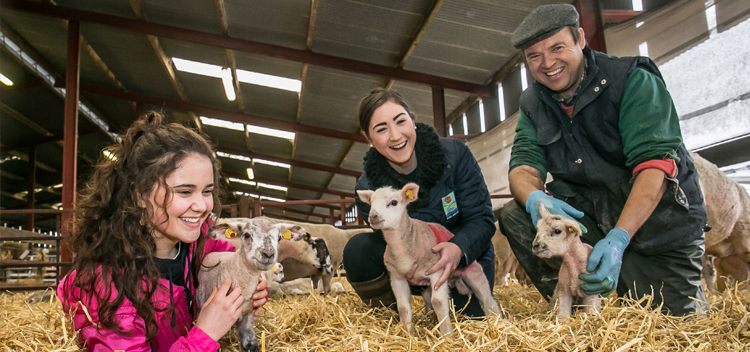 On 13th and 14th March 2018, UCD Lyons Farm hosted over 600 Leaving Cert Agricultural Science students for Agri Aware's Farm Walk and Talk series.
Students from across Leinster and Connaught visited UCD's Lyons Farm to gain real-life experience of working farms and hear talks from leading agri-food industry experts.
Agri Aware's Farm Walk and Talk series takes place from 7th - 22nd of March with 10 venues hosting students over eight days. The event at UCD Lyons Farm included demonstrations and presentations from School of Agriculture and Food Science lecturers and researchers as well as a variety of Agri Aware patrons who provided industry and curriculum linked talks. Representatives from ABP Food Group and Dawn Meats provided educational talks on the meat industry, while representatives from Glanbia and Dairymaster were on hand with information about the Irish dairy industry. Racing Academy & Centre of Education (RACE) spoke to students about the equine industry and FBD Insurance spoke about their sector and the importance of on-farm safety.
Speaking at the launch of the 2018 Farm Walk and Talk series Agri Aware Chairman Richard Moeran said, "Agriculture is hands-on and events like Agri Aware's Farm Walk and Talk provide thousands of students with an insight into the practicalities of farming and the hard work that farmers do each day. For many it will be their first time on an operating farm and we believe it could play a role in enticing these students towards a career in agriculture sector."
Deirdre O'Shea, Executive Director, Agri Aware added, "Agri Aware's Farm Walk and Talk series is a key event in the Agricultural Science calendar and it's great to see so many schools interested in Farm Walk and Talk. This is a fantastic opportunity for students to gain an insight into the hands-on experience of a working farm while also getting the opportunity to engage with key industry stakeholders. Agri Aware wouldn't be able to facilitate these events without the help of Teagasc, UCD, IASTA and our patrons from the agri-food industry."
Related links