Professor John O'Doherty receives the Sir John Hammond Award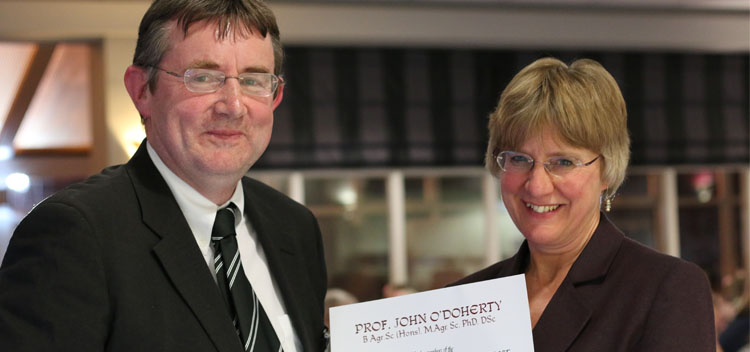 Professor John O'Doherty receives the Sir John Hammond Memorial Prize from Dr Caroline Rymer, President, British Society of Animal Science.‌
The British Society of Animal Science have awarded Professor John O'Doherty, UCD School of Agriculture and Food Science's Professor of Animal Nutrition, the Sir John Hammond Memorial Prize at their annual Conference Dinner at Chester University on Wednesday 6th April 2016.
This prestigious Prize is awarded by the Society to anyone in research, teaching, advisory, farming or affiliated professions who has made a significant contribution to the science or development of animal production.
The overall nature of Professor O'Doherty's research programme is to develop novel sustainable husbandry strategies to enhance pig productivity and health while imparting a positive impact on environmental load. The novel nutritional compounds investigated include prebiotics, antimicrobials and enzymes from a variety of natural sources, including seaweeds, cereals, yeast and milk by-products. The innovative husbandry strategies include: 1) the role of energetically efficient pigs in feed utilisation, animal productivity and environmental load; 2) the role of maternal nutrition on the subsequent health and lifetime productivity of the progeny.
In 2014 Professor O'Doherty was granted a Doctor of Science degree. The Doctor of Science degree is awarded for published work of an exceptional standard and gives the candidate international distinction in their field.