Plusvital Launches the World's First Nutrigenomic Supplement for Horses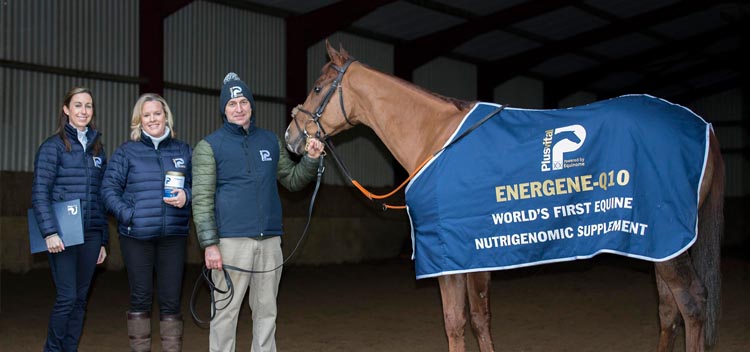 In a significant development for equine nutrition, Irish equine science company Plusvital have announced the launch of EnerGene-Q10, the world's first nutrigenomic supplement for horses, that contains the compound Co-enzyme Q10 (CoQ10).
In recently published research funded by Science Foundation Ireland and published, scientists at University College Dublin and Trinity College Dublin have shown that the genetic background of a horse has a significant influence on the production of CoQ10 in horse muscle cells.
CoQ10 is a key nutrient required for the generation of energy in the mitochondria of the muscle that is particularly important for sustained exercise. Increased levels of CoQ10 may result in more efficient energy production, delayed onset of fatigue during exercise, an improved response to exercise training and enhanced recovery following intense exercise.
The research revealed that Thoroughbred horses that are T:T (suited to exercise requiring stamina) genetic types, as identified by the Plusvital Speed Gene Test, produced significantly lower cellular levels of CoQ10 than the other (C:C and C:T) genetic types, but that these levels can be restored with supplementation.
In follow-up field trials, the scientists found that CoQ10 concentration in the muscle increased by 40% following nine weeks of oral supplementation. The Speed Gene Test is designed to predict optimum race distance and precocity potential by categorising horses as one of three genetic types: C:C (suited to sprint exercise), C:T (suited to exercise requiring speed and stamina) and T:T (suited to exercise requiring stamina).
Speaking at the launch of EnerGene-Q10, lead author on the scientific paper Associate Professor Emmeline Hill, UCD School of Agriculture and Food Science and Plusvital's CSO said, "We're delighted to launch the world's first supplement based on published research that links a horse's day-to-day nutritional requirements with their individual genetic profile. Using the Speed Gene Test horses that will most benefit from supplementation with EnerGene-Q10 can be identified. By offering tailored supplementation we're adding real value for our customers."
Collaborating scientist Professor Richard Porter, School of Biochemistry and Immunology at Trinity College Dublin said, "Mitochondrial function is clearly an important variable in equine performance. Our research has shown that efficiency in mitochondrial function has a genetic basis in the horse and that this information can now be applied in practice."
The innovative field of nutrigenomics combines the studies of nutrition and genomics to investigate a horse's nutritional requirements based on their genetic make-up. This follows the increasingly common view that a "one size fits all" nutritional approach may not yield the best outcome and that each horse often has a slightly different nutrient requirement regardless of similarities between breed, training regime, age etc.
Commenting on the launch of EnerGene-Q10, Ireland's Multiple Grade One-winning racehorse trainer, Henry de Bromhead, said, "Plusvital is leading the way in taking an active research approach in their product development and this new nutrigenomics innovation is intriguing. CoQ10 is of growing interest as a supplement in human health and we look forward to seeing the fruits of Plusvital's research particularly in our T:T horses."
Multiple Group 1 winning owner, trainer and breeder Jim Bolger, who has been using the Speed Gene Test to inform his breeding and training operations since 2010 said, "This is another example of how genetic information can be used alongside traditional management approaches to get the best out of my horses."
Related links
Research profile - Associate Professor Emmeline Hill