Tom Tynan - Recipient of the 2015 UCD Alumni Award for Agricultural Science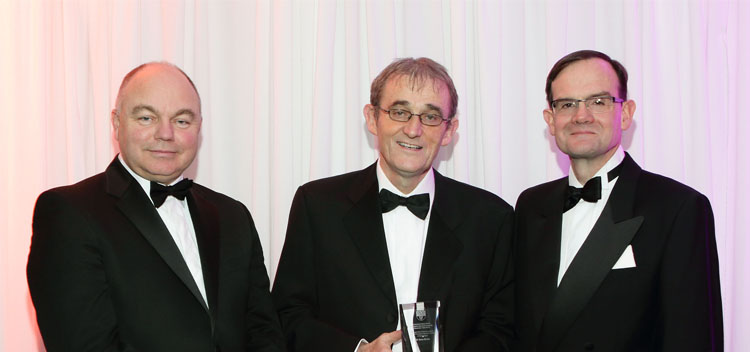 Pictured at the 2015 UCD Foundation Day Alumni Awards were Professor Andrew Deeks, President, UCD, Tom Tynan and Professor Alex Evans, Dean of Agriculture, UCD School of Agriculture and Food Science.
Mr Tynan was celebrated for his phenomenal career in agriculture including his recent appointment to the cabinet of EU Agricultural Commissioner Phil Hogan.
University College Dublin was proud to celebrate outstanding alumni at the UCD Foundation Day Alumni Awards 2015. Those being honoured included some of the University's most distinguished alumni, recognised for outstanding achievements within their chosen professional field post graduation.
At the University's prestigious event, Tom Tynan was celebrated for his phenomenal career in Agriculture. Tom received his Bachelor of Agriculture Science from University College Dublin in 1981. He brings a wealth of commercial and strategic experience having worked across a range of agribusiness and policy areas where he held a variety of senior management roles. Coming from a strong farming background, his experience spans commercial, strategy, operations, and on-farm advisory.
Previously on Teagasc Board and Chair of Alltech, Tom's responsibilities for rural development, agricultural markets, agricultural research and innovation, and stakeholders have spanned across time and serve his industry well. In 2014, Tom was appointed to the Cabinet of EU Agricultural Commissioner Phil Hogan. His continuous efforts represent all elements of agriculture and make him especially worthy of this award.
Professor Alex Evans, Dean, UCD School of Agriculture & Food Science remarked that "Tom is a real leader and is someone who has had real impact in the industry".
Speaking to the Irish Farmers Journal about the award, Tom said, "Throughout my career I have interacted with people who studied in UCD. I have also been very fortunate to work with some outstanding ags in the European Commission. UCD gave me a great education and has allowed me to build a hugely rewarding and enjoyable career. UCD alumni are setting standards across the globe and I am proud to be a member of that fraternity."
About the Awards:
The event is an annual ceremony which continues a 160 year old tradition of honouring the founding of UCD in 1854. The black tie ceremony and banquet recognises the achievements of 13 of UCD's outstanding alumni and hosts over 450 of its most distinguished graduates, friends and staff in O'Reilly Hall each November. Representing each programme in UCD, awards are presented in the following categories; Agriculture & Food Science, Architecture, Arts, Business, Engineering, Law, Medicine, Nursing, Midwifery and Health Systems, Public Health, Physiotherapy, Science, Social Science and Veterinary Science. Continuing with the 10 – year tradition, the Foundation Day Medal is also presented to an outstanding alumnus, selected by the President of UCD.
Related links