Climate debate heats up as students tackle Ireland's responsibilities at the 2018 Great Agri-Food Debate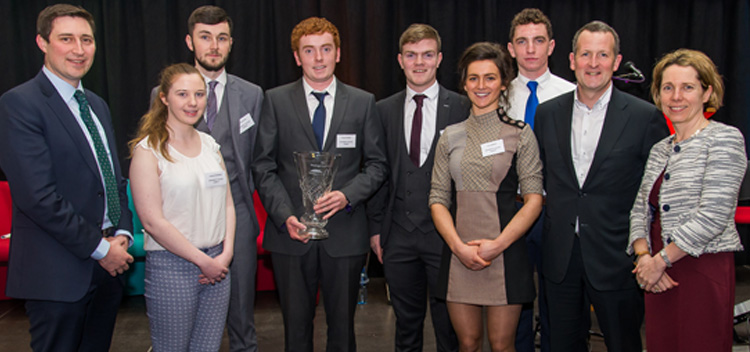 Friday 16th February – UCD have been crowned winners of the third Annual Great Agri-Food debate, organised by Dawn Meats and McDonald's Ireland, as students from five third level colleges gathered in Waterford Institute of Technology (WIT). The event has become a key date in the college calendar for agriculture students with a growing number of teams competing this year and ambitious plans to expand further in 2019.
Throughout the day teams from Waterford Institute of Technology (WIT), University College Dublin (UCD), University College Cork (UCC), Cork Institute of Technology and Dundalk Institute of Technology (DKIT) debated key topics for the Irish agriculture industry including; Brexit, consumer behaviour and sustainability and CAP.
The event culminated in a heated and well-informed debate between UCD and CIT on the motion "Ireland takes its environmental responsibilities and commitments seriously."
The UCD team was drawn from students of the School of Agriculture and Food Science, from across stages and majors including Animal and Crop Production, Animal Science and Food and Agribusiness Management. The team was captained by David O'Heney (Stage 4, Animal and Crop Production) who was joined by Owen Cashman (Stage 2, Animal and Crop Production), Louise O'Connor (Stage 3, Animal Science), Una Sinnott (Stage 2, Food and Agribusiness Management), Tommy Meade (Stage 2, Food and Agribusiness Management) and Michael Kean (Stage 3, Animal Science).
UCD, supporting the motion argued that Ireland's reputation all around the world as a green, environmentally conscious producer is evidence that the country has embraced the environmental challenge. They argued that targets alone are not a measure of whether Ireland takes its environmental responsibility seriously. The team also flagged the many ways in which Ireland has been an innovator, from Croke Park's designation as the first carbon neutral stadium in the world, to the introduction of the BER scheme and the way that Ireland is leading the world in passive design.
CIT argued that Ireland has failed to "walk the walk" on its environmental responsibilities time and time again, and that the country continues to choose the economy over the environment. They put it to the audience that going green costs money, money that Ireland doesn't have. They also referred to the recent coverage of plastic waste in the form of disposable coffee cups, and questioned why these cannot be banned sooner than 2030.
Commenting at the event, Niall Browne, CEO Dawn Meats said;
"Firstly, well done to all the students that took part today, and welcome to Waterford, the home of Dawn Meats. It is great to be in Waterford Institute of Technology for the third year of the Great Agri-food debate. Through the debates today, we have touched on many of the most pertinent issues facing farmers and food producers in Ireland. The sustainability challenge is one that is particularly close to our hearts in Dawn Meats. We have ambitious 2025 targets to reduce water and energy intensity by 40% and CO2 emission intensity by 50% and we aspire to become Europe's most sustainable meat company in the process. The students have provided great food for thought today on fulfilling that commitment."
Commenting Peter Garbutt, McDonald's UK & Ireland, said;
"It's wonderful to see such a high standard of informed and impassioned debate, with students from five colleges that are centres of excellence in agricultural studies. McDonald's is delighted to facilitate this showcase for the future leaders of our industry to make their voices heard on some of the biggest issues of the day. It's vitally important that young people are encouraged to engage on these topics many of which will impact the future of farming and agriculture in Ireland and beyond."
The quarter final saw UCC take on CIT on the impact of Brexit on the agri-food industry. In the first semi-final CIT debated WIT on consumer behaviour as key to food sustainability, while reigning champions UCD took on Dundalk Institute of Technology (DKIT) on the issue of CAP in the second semi-final.
The winners of the Best Speaker prizes in the quarter-final, two semi-finals and final were respectively Avril O'Driscoll, CIT; Aoife Forde, WIT; Owen Cashman, UCD; and Una Sinnott UCD.
The final debate was moderated by Justin McCarthy, Editor of the Irish Farmers Journal and the judging panel included Niall Browne, CEO of Dawn Meats; Tara McCarthy, CEO of Bord Bia and Peter Garbutt of McDonald's UK & Ireland. Throughout the day representatives from the Food Safety Authority of Ireland, BWG Foods, AIB, Bank of Ireland, Ulster Bank, Enterprise Ireland, Teagasc, Agri-Aware and Meat Industry Ireland, participated as judges and moderators, in a very interesting and robust series of qualifying debates.
Related links
RTÉ CountryWide interviews UCD Team (RTÉ Radio Player)