UCD working with University of Fondwa Haiti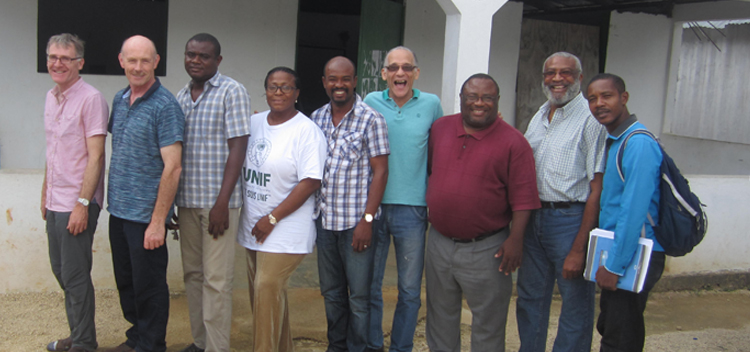 For over a year now University College Dublin has been building a relationship with the University of Fondwa (UNIF) in Haiti. This initiative, led by the School of Agriculture and Food Science also involves UCD's School of Veterinary Medicine, Quinn School of Business and the College of Science.
Haiti is one of the poorest countries in the world and has been devastated by natural disasters including an earthquake in 2010 and more recently hurricanes in 2016. It is a country of almost 11 million people living on an area the size of Munster. An estimated 60% of its population live in rural areas and are highly dependent on subsistence farming.
The University of Fondwa is the only rural-based and rural-focused university in Haiti and was established in 2004 with the vision of empowering rural communities in Haiti to improve their livelihoods. The university offers three distinct degree programmes, namely Agriculture, Veterinary Medicine and Business. It aims to achieve its vision through its graduates who are themselves from the very rural communities they will return to work with in the future. In support of this vision and recognising the devastating consequences of the 2010 earthquake which destroyed the university campus and the chronic and deep poverty that exists in the country, UCD has signed a Memorandum of Understanding with UNIF to support development of the teaching and research programmes of the university and ultimately contribute to its mission of empowering rural communities across the country.
UCD Professors Frank Monahan and Jim Kinsella with Gary Daniels, UNIF President at the University of Fondwa, Haiti (centre) during the second university visit to Haiti in August 2017.
Under this MoU the Schools of Agriculture and Food Science, Veterinary Medicine and Business have identified staff who are interested in supporting the UCD-UNIF collaboration and already two visits to Haiti have been undertaken to help progress this work. The initial work is based on curriculum development and in early August 2017, two members of the School of Agriculture and Food Science, Professors Frank Monahan and Jim Kinsella, and one member of the Quinn School of Business, Matt Glowatz, visited UNIF and worked intensively with staff of the university in reviewing and revising its curriculum for its agriculture, veterinary medicine and business programmes.
The next step in this collaboration is to continue work on curriculum development and to identify modules within a revised curriculum which can be the basis for dialogue between staff in UCD and counterparts in UNIF. While still early stages in this very innovative and largely unscripted collaboration, it is regarded as a good example of UCD's global engagement strategy. This initiative has the potential to build strong bridges between UCD and UNIF that can into the future lead to truly collaborative partnerships in teaching and research.
Related links