‌Widening Participation Committee

The role of UCD's Widening Participation Committee is to oversee and monitor progress towards the achievement of the University's objective of diversifying the student profile to reflect that of general population. Sponsored by the Registrar and Deputy President, Professor Mark Rogers, the Committee is chaired by Professor Grace Mulcahy, and reports to the Equality, Diversity and Inclusion sub-group of the University Management Team.
Membership is drawn from all Academic Programme Boards, as well Policy and Support Services, including Admissions, Recruitment, Teaching & Learning, Communications and Library, in addition to Student Access Leaders. The Committee is provided with policy advice, expertise and operational support by UCD Access & Lifelong Learning (ALL).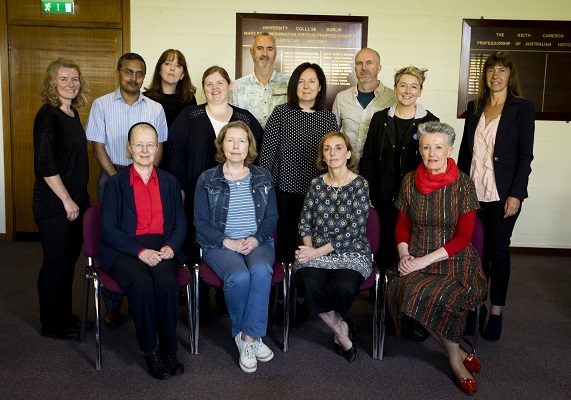 Some Members. Back: Ms Michelle Tracey, Assistant Professor Arun Kumar, Dr Bairbre Fleming, Dr Lisa Padden, Assoc Professor John O'Connor, Professor Anne Keegan, Assoc Professor Paul Rouse, Dr Aideen Quilty, Ms Jill O'Mahony. Front: Assoc Prof Mary Forrest, Assoc Prof Sara O'Sullivan, Professor Grace Mulcahy, Dr Anna Kelly
Show/hide contentOpenClose All
‌

Professor Grace Mulcahy

Chair, University Widening Participation Committee

Professor Mulcahy is Full Professor of Veterinary Microbiology and Parasitology at the School of Veterinary Medicine, University College Dublin. From January 2007 to September 2016 she was Dean of Veterinary Medicine, and during this time worked to ensure the current position of the school as a leading international player in veterinary education and research.

She leads an active research group with interests in helminth immunobiology, she is the current Chair of the University Widening Participation Committee, and very much enjoys contributing to the advancement of student diversity, and to working to ensure UCD's work in widening participation is mainstreamed throughout the University community.
Programme Board, Dean's Nomination
‌

Assoc Professor Mary Forrest

Assoc Professor Mary Forrest, Associate Professor, School of Agriculture and Food Science, represents the Agricultural Sciences Programme Board. Previously Associate Dean for Teaching and Learning she was a member Access to Science, Engineering and Agriculture Board of Studies and the Student Support Working Group. Speaking about horticulture, she was invited to participate in 'A Taste of UCD' at Beckett Civic Centre, Ballyogan, October 2017.

Assistant Professor Michael Lennon

Mick Lennon is Assistant Professor in Planning and Environmental Policy, and Director of Teaching and Learning in the School of Architecture, Planning and Environmental Policy. He represents the Architecture, Landscape Planning and Environmental Policy Programme Board.

‌

Dr Aideen Quilty

Dr Aideen Quilty is a lecturer in the School of Social Policy, Social Work and Social Justice UCD and is Director of the Women and Gender Studies Community/University Outreach Programme. Throughout her academic career she has championed the rights of traditionally under-represented and disenfranchised groups within higher education. Aideen locates her undergraduate and graduate teaching as a form of critical civic practice. Her research is interdisciplinary drawing on feminist, educational and spatial theories. Her recent work has focused on developing a distinct pedagogy for community based higher education and she is currently researching pedagogic imaginaries within higher education.

‌

Assoc Professor Paul Rouse

Paul Rouse is the representative of the College of Arts and Humanities. He is a Programme Co-ordinator for the B.A. Humanities degree and is the chairperson of the College of Arts and Humanities Widening Participation committee. He is an Associate Professor in the School of History.

‌

Professor Anne Keegan

Anne Keegan is Full Professor of Human Resource Management at University College Dublin, College of Business. She earned her Ph.D. at Trinity College Dublin (1997) and has previously worked at University of Amsterdam (2006-2016) and Erasmus University Rotterdam (1998-2006) in the Netherlands. She is currently a visiting professor at Amsterdam Business School and has also received visiting professor appointments at Vienna University of Economics and Business, and Trinity College Dublin. Anne hopes to make a contribution to achieving the mission of the University Widening Participation Committee, inspired by her experiences growing up and attending school in Ballymun on the northside of Dublin city, at a time when very few children from her community attended university or pursued third level studies.

Assoc Professor Mark Flanagan

Mark Flanagan is an Associate Professor in the School of Electronic and Electrical Engineering at University College Dublin. Prior to joining UCD he held post-doctoral research fellowships with the University of Zurich, the University of Bologna and The University of Edinburgh. His research interests include information theory, wireless communications, and signal processing. He serves on the technical program committees of several international conferences, and is a Senior Editor for the journal IEEE Communications Letters. In 2014 he was a Visiting Senior Scientist with the German Aerospace Center under a DLR-DAAD Fellowship. He is also actively involved in national mathematics outreach programmes and is one of the trainers of the Irish team which participates in the International Mathematical Olympiad (IMO).

Assoc Professor Emma Sokell

Assoc Professor Emma Sokell, School of Physics UCD, Director of the Science Graduate School.

Chair of the Widening Participation Data Subgroup (2016-2017)

Dr Thomas Mohr

Dr Thomas Mohr is an associate professor at the School of Law, University College Dublin. He is honorary secretary of the Irish Legal History Society and book review editor of the Irish Jurist, Ireland's oldest law journal. In 2016 he was Robarts Visiting Professor at York University, Toronto. His latest publication is Guardian of the Treaty – The Privy Council Appeal and Irish Sovereignty (Four Courts Press, 2016). This concerns important aspects of the Irish Free State's relationship with the British Empire in the inter-war years.

Assistant Professor Cliona McGovern

Cliona McGovern holds a PhD in coroners' law and death investigation from the Department of Law in the University of Sheffield. She also holds a Professional Diploma in University Teaching & Learning and an MA in the medico-ethical aspects of the diagnosis of brain death from University College Dublin (UCD). She was a member of the Working Group on the Review of the Coroner Service with the Irish Government's Department of Justice. She is a member of the Irish College of General Practitioners Research Ethics Committee, a member of the Human Research Ethics Committee in UCD, and a member of the Radiographers Registration Board. She is a lay advisor to the Royal College of Physicians of Edinburgh.
Since 2005, she has been a Lecturer in Forensic & Legal Medicine in UCD where she lectures on aspects of forensic & legal medical, medical ethics, human rights and professionalism to medical, radiography, and physiotherapy students. She also lectures on similar topics to the graduate programmes in Healthcare Risk Management & Quality and in Forensic Medicine. She has published both nationally and internationally on medical law and ethics, suicides, road traffic collisions, coronial data and human rights. Since 2016, she has been the Director for Admissions in Medicine and oversees the selection of 240 students (with applications from 52 countries) for the medical undergraduate and graduate entry programmes. She has been at the forefront of increasing and streamlining access to medicine pathways and wrote a comprehensive report on opportunities for Widening Participation in Medicine in 2016.

Assistant Professor Regina Joye

Dr Regina Joye is lecturer and a member of the School of Nursing Midwifery and Heath Systems programme board. Equity, diversity and inclusion are principles that Regina is fully committed to within the curriculum the profession of nursing and midwifery and extending it to the wider university community.

Assistant Professor Caitriona Cunningham

Caitriona Cunningham is an Assistant Professor and Associate Dean for Teaching and Learning at UCD School of Public Health, Physiotherapy and Sports Science and represents her school on UCD's Widening Participation Committee. Her, research and teaching focus on Muscuoskeletal health, physical activity and exercise promotion with internationally published research findings. She has a strong commitment to facilitating the translation of evidence into practice, with active involvement in research, professional and community networks. In 2015, she cofounded the innovative UCD Physio Hub to facilitate delivery of Physiotherapy-led exercise and health promotion programmes to a wider community and provide 'real world' learning and research opportunities.

Professor John O'Connor

John O'Connor is a Professor in the School of Biomolecular & Biomedical Science and a Conway Fellow at UCD. He was the Head of Neuroscience in UCD from 2009 to 2012 and General Secretary of the Royal Academy of Medicine in Ireland from 2004 to 2011. He received the Conway Silver Medal from the Royal Academy in 2010 for his contribution to research in the Biomedical Sciences field. He is currently Associate Dean for Widening Participation in the College of Science. As well as teaching interests which integrate research into undergraduate programs he has an active research laboratory in the Conway Institute in UCD investigating how low oxygen modulates synaptic signalling in the brain. He has published over 80 full scientific papers and book chapters and over 200 scientific abstracts to date.

Assoc Professor Sara O'Sullivan

Dr Sara O'Sullivan, Associate Professor of Sociology and Associate Dean of Social Sciences representing Social Sciences Programme Board. The Social Sciences Programme Board is launching a new Social Sciences degree in September 2018 and under the leadership of Dr Aideen Quilty, and, with the assistance of colleagues from across the university, is embedding widening participation into the design and delivery of the new programme.

Assistant Professor Arun Kumar

Clinician, Drug Discovery Scientist and Entrepreneur with over 15 years of research and teaching experience in pharmacology and regenerative medicine. Extensive international experience with over 100 peer-reviewed publications. I have attracted investments from several national and international organisations at various stages of my carrier. I have successfully directed several projects in preclinical / clinical pharmacology, specifically in cardiovascular pathophysiology, diabetic complications, medical devices, arthritis, and regenerative medicine, which has resulted in either patentable products and/or high impact publications.
Policy & Support Services, Director's Nominee
Dr Anna Kelly

Dr Anna Kelly, DipEd(HEc), MEd(SEN), MSc(Mgt), PhD (Inclusive Design) is Director, Access & Lifelong Learning at University College Dublin. Dr Kelly leads a team of access professionals who support the University to realise its strategic objective to become a diverse and inclusive scholarly community. She is Chair of the Steering Group for HEAR/DARE Alternative Admissions Routes to Higher Education, and is Ireland's representative on the European Access Network. In addition, Dr Kelly has extensive experience of the further education sector, including St Michael's House, the National Rehabilitation Board, and FÁS.

Dr Bairbre Fleming


Dr Bairbre Fleming is Deputy of UCD Access & Lifelong Learning. She has extensive experience working with under represented students through the UCD Access programmes with particular emphasis on mature students and part-time programmes. Her PhD drew on a sociological analysis of the experiences of mature students in higher education.

Ms Jill O'Mahony

Jill O'Mahony joined UCD in 2007 and currently works as Director of Admissions and Enrolment Planning. Jill's early student years were also spent in UCD in the Engineering and MBA programmes. Working with her colleagues in Admissions and other teams in UCD, Jill enjoys participating in all processes and reviews that influences the different cohorts of students, entering UCD.

Ms Mary Staunton

Ms Avril Patterson


Avril Patterson is currently User Services Manager in UCD Library. Prior to taking up this position in March 2015, she held a number of positions across the UCD library service. She is committed to the development and provision of user focussed services. She is a member of the Widening Participation Committee, with a strong personal interest in its agenda, as she graduated as a mature student.

Ms Anne-Marie Harvey


Anne-Marie Harvey is currently Director of Student Recruitment at University College Dublin a position she has held since 2007. The primary goal of the Director is to design, develop and deliver student-centred recruitment strategies to attract high calibre students, to increase student diversity and retention and to ensure UCD as the University of first choice. Anne-Marie was also responsible for the incubation of UCD's Ad Astra Academy and the Scholarships programmes from 2011 to 2016.

With long experience in UCD she also serves on the University Management Team (UMT) for Education, Global Engagement Group, Widening Participation and Ad Astra Academy committees. Previously she was Director of Continuing Professional Education at UCD, the first person to hold the position, focussed on delivering professional learning, via a choice of innovative delivery methods – remote, self-paced and with multiple entry and exits routes.

Anne-Marie was instrumental in the origins of UCD Nova, a logical development from the UCD Industry programme, forging innovative industry education partnerships, with particular focus on health and safety education, mediation, Environmental Impact Assessment to industry professionals.

Before joining UCD, Anne-Marie was at University of Sussex, Institute of Development Studies, where she carried responsibility for attracting international students from developing countries' administration and government. She also managed their funding through the World Bank and other benefactors.

Having graduated from UCD with BA English, and H.Dip Ed., she holds an MSc in Strategic Management and Planning.

‌

Assoc Professor Terry Barrett

Dr Terry Barrett is Assistant Professor in Education Development at UCD Teaching and Learning where she is Programme Director for the accredited programmes in University Teaching and Learning. Her research and teaching interests include curriculum design, problem-based learning, creativity, academic writing and mindfulness and compassion in higher education.

Ms Michelle Tracey


Michelle Tracey provides administrative support to the University Widening Participation Committee.
Student Access Leaders

Ms Amy Hassett

Amy Hassett is the DARE Student Representative on the Widening Participation Committee. Amy came into college through the DARE route and her role on the board is to represent students with disabilities on the committee. Amy is a 4th Year Physiology Student.

‌

Mr Billy Sines

William Sines is a 2nd year student studying Archaeology and is the Auditor for the UCD Mature Student Society 2017/2018. He is focused on raising awareness around the diversity of the mature students on campus and the different supports and issues that they require.

Ms Tamara Whelan


Tamara Whelan is the HEAR Student Representative on the Widening Participation Committee. Tamara is in her final year, studying International Commerce with Chinese. Tamara has been heavily involved with the Access and Lifelong Learning Centre since her 1st year in UCD and is delighted to represent her fellow students on this committee.
UCD Widening Participation Committee. Annual Report 2016/17

PDF

|