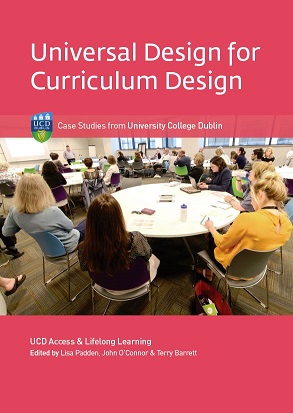 Download Now!
Universal Design for Curriculum Design - Full Book‌
Chapter 1 Introduction - Lisa Padden, John O'Connor, Terry Barrett
Chapter 2: Integrating Learning Support for Part-time Students - Orna O'Brien
Chapter 3: Navigating Semester One - Irene Rose
Chapter 4: Assisting the Individual - Leanne Blaney, Paul Rouse
Chapter 5: Facilitating Success on Placement -Alison Clancy, Phil Halligan
Chapter 6 I am a Busy Distance Learner - Marion Maher, Sue Meehan
Chapter 7: College Knowledge - Anne Drummond, David O'Dwyer
Chapter 8: Maths Sparks - Aoibhinn Ni Shuilleabhain, Anthony Cronin
Chapter 9 It is really difficulty to read scientific papers - John O Connor

Chapter 10: Facilitating Students to Showcase their Research - Valerie Kendlin
Chapter 11: Debating: How to Advance your Students Communication - Connor Buggy
Universal Design for Curriculum Design - Further Resources
UCD Access & Lifelong Learning provides workshops for UCD staff on supporting students with disabilities and implementing Universal Design. We can provide a tailored training session for your school/unit. To discuss your training needs please contact Dr Lisa Padden on 01 716 7072 or e-mail lisa.padden@ucd.ie.