Inter-disciplinary research project investigates a mysterious medieval site in Rincrew, Co. Waterford

An inter-disciplinary research project investigating a mysterious medieval site in Rincrew, Co. Waterford, several kilometres north of Youghal, has discovered that it is a unique survival of a type of site once very common in Ireland, and hope that its imminent publication will lead to its preservation.
The ruins at the site are long believed to be those of a 'monastic castle' that was owned by the Knights Templar, an order of military clerics founded to protect pilgrims to the Holy Land. The Templars, famously disbanded after heresy trials in the early fourteenth century, came to Ireland after the Norman invasion. Very little Templar archaeology survives in Ireland.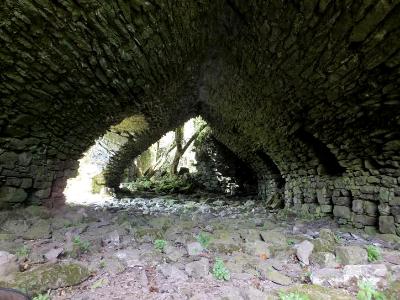 Professor Tadhg O'Keeffe, UCD School of Archaeology, Eamonn Cotter, a Cork-based archaeological consultant, and Dr Paul MacCotter, UCC School of History, have been exploring the history and archaeology of the Rincrew site.
They have found evidence that the association of Templars with Rincrew is a post-medieval invention. The ruins are not those of a monastery. Instead, they are the ruins of the homestead and estate centre of a thirteenth-century manorial lord.
The team has re-identified the two main buildings as a small, single-storey, domestic hall (used for communal eating and various administrative activities) and an attached residence. There are very fragmentary traces of other structures around what was obviously a small courtyard.
"Ironically", explains Prof. O'Keeffe, "what makes Rincrew so significant now is that it was so insignificant in the middle ages."
"Small manorial settlements like it were everywhere in Norman-controlled parts of Ireland. We have historical references to halls, chambers and other buildings at the centres of small estates owned by people who – and this is important - were too low in status to have owned castles. There must have been hundreds of these originally."
"No settlement of this grade, with a courtyard still containing a hall and chamber, has ever been identified. None of the documented sites survives. The condition of Rincrew is very far from pristine, and the small hall is particularly ruined, but it is quite a thrill to stand inside what may be the last remaining example of its type in Ireland".
According to Prof. O'Keeffe, the analysis of Rincrew shows the value of specialists in different fields working together. "Collaboration has allowed us put to bed the myth of the Templars at Rincrew on the one hand, and identify a unique archaeological site on the other."