Governance and management of internships in UCD is through a framework of entities some of which operate at a University wide level, others at a college or school based level.
University level structures
Internship Academic Steering Committee (IASC)
University Programmes Board (UPB)
University Internships Manager
An Internship Management Forum

College and School based structures
Programme Boards and Graduate School Boards
Programme Internship Managers/Officers
The Internship Academic Steering Committee (IASC), which reports to UPB, has a central oversight and advisory role in the University management and governance framework for internships. The IASC oversees all proposed internship arrangements except for those which form part of a professional programme*.
The University Internships Manager, a member of IASC, is based in the Career Development Centre and provides a co-ordination and oversight role for internship arrangements across the University. The University Internships Manager works closely, on an on-going basis, with programme internship managers/officers at college and school level who are responsible for the organisation and administration of internships at the programme level.
An Internship Management Forum is in place which monitors and assures the standardised implementation of University internship guidelines, policies and practices as set down by the IASC on behalf of the University, and deals with individual and shared challenges in effectively implementing University practices and standards in running internships. The Forum, which meets on a regular basis, comprises of the University Internships Manager and the programme internship managers/officers.
Finally, academic oversight of each University programme, including any internship component which forms part of the programme, rests with a programme board or a graduate school board.
A diagrammatic representation of how the various entities of the Framework interact is provided below:
UCD Internship Governance Structure
‌
Oversight and Co-ordination of the Management and Development of Internships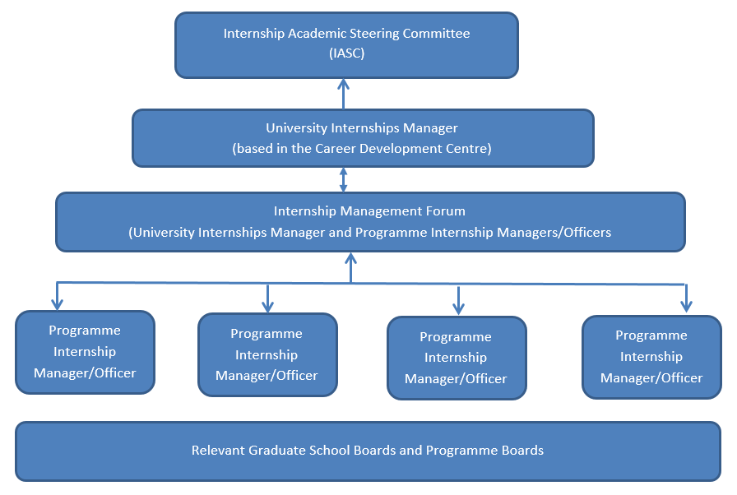 *A Professional Programme is defined as one which contains a mandatory clinical/work placement for students which is set down by a professional body and designed to assess the students' competence to practice their profession. In the case of Professional Programmes such assessments are carried out by a practice teacher/professional who observes the students' practice in the workplace. This work placement and the assessment of same is an integral, mandatory part of that students' professional training, without which entry to that profession is barred. These standards of practice will be those of the accrediting body, agreed with the University, with student supervision and assessed on placement by members of their own profession. At present, these programmes are Medicine, Nursing, Education, Psychology, Social Work, Radiography, and Physiotherapy.