Dr. Anna Salvati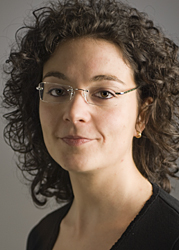 joined the Centre for BioNano Interactions as a Postdoctoral Fellow in January 2007. Her research is focused on the study of the interactions of nanoparticles with cells in order to understand the mechanisms of uptake. By following the localization in time and space inside the cell we aim to reveal effects of nanoparticles on cellular functioning. In order to quantify and track the particles inside the cells, she works with a range of techniques, such as Fluorescence Microscopy (Confocal and Live Cell Imaging) and Flow Cytometry. The impact of these interactions on the cells is determined using RT-PCR and Gene Arrays, together with Cyto-toxicity and Apoptosis assays. More recently she has started to investigate the use of mRNA silencing technologies to probe mechanisms of interaction.
After a degree in Biology at the University of Florence in Italy, Anna undertook a PhD in Physical Chemistry working on the physico-chemical characterization of carriers for drug delivery. Her research focused on the preparation of liposomes for the transport of DNA and for inclusion of porphyrazines and boron compounds for Boron Neutron Capture Therapy. During her PhD, she spent 18 months at the Physical Chemistry Department of the University of Lund in Sweden, where she worked on the characterization of composite responsive gels for controlled drug release. In order to describe these drug carriers, she worked with a variety of Spectroscopic Techniques (including Electron Spin Resonance (ESR), Diffusion NMR, and a new NMR Imaging for the visualization and quantification of different simultaneously occurring transport processes) and different Scattering techniques (mainly Dynamic Light Scattering and Small Angle Neutron and X Ray Scattering).
See UCD research profile for full bibliography.
---
Return