Dr. Eugene Mahon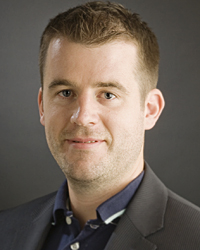 joined the Centre for BioNano Interactions, as a Postdoctoral Fellow in January 2010. He is working on synthesis and functionalisation of nanoparticles for biological applications.
Having received his Bsc.(Hons) in chemistry from UCD, Dublin in 2004 Eugene then received his doctoral degree in 2009 from Université Montpellier II. His thesis work entitled "Dynamic constitutional Protein-Carbohydrate and Polyoxometalate Systems-towards Biomimetic Sensors and Membranes" concerned the investigation of lectin-carbohydrate interaction using glyconanoparticles and quartz crystal microbalance. Also included was work on inorganic synthetic ion channels and lectin facilitated membrane transport. Working as part of a multidisciplinary unit Dr. Mahon aims to develop targeting and detection methods for bionanoarchitectures in vivo.
See UCD research profile for full bibliography.
---
Return