Dr. Michelle Nic Raghnaill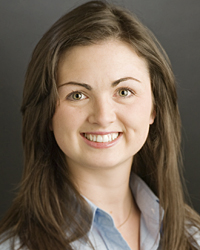 joined the Centre for BioNano Interactions in February 2010 as a Postdoctoral Fellow. Her project aims were to establish and optimize an in vitro blood brain barrier model in order to investigate the interaction and transport of nanoparticles in a system that closely mimics an in vivo setting. Key questions Michelle will address include what mechanisms are utilised by nanoparticles to transport across the BBB, and what physio-chemical properties of NPs (and their associated protein coronas) determine uptake and transport across the BBB.
Michelle graduated from University College Dublin in 2006 with an honors degree in pharmacology. She then completed a PhD in Neuroscience within the Applied Neurotherapeutics group (ANRG), in UCD a Science Foundation Ireland Strategic Research Cluster under the supervision of Dr. Keith Murphy. Her PhD thesis investigated novel molecular pathways involved in the process of learning and memory using both in vivo and in vitro techniques.
---
Return