Mariana Bexiga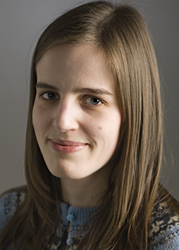 joined the Centre for BioNano Interactions as a PhD student of the PhD Programme in Experimental Biology and Biomedicine, in 2009. She is working on the elucidation of the cellular and molecular mechanisms of cytotoxicity induced by cationic nanoparticles, under the co-supervision of Professors Kenneth A. Dawson (School of Chemistry & Chemical Biology) and Jeremy C. Simpson (School of Biology and Environmental Science). She works mainly with biochemical, cellular and molecular biology techniques.
Mariana had a fellowship from the Portuguese Ministry of Science and is co-funded by the SFI SRC BioNanointeract.
In 2005, Ms. Bexiga got her degree in Biochemistry from the University of Coimbra in Portugal. As part of her studies, she undertook a 9 month research project in the group of Professor C.I. Edvard Smith in Karolinska Institutet, Sweden. Her research consisted of optimising the Minicicle plasmid for Bioplex targeting to the liver. She then joined the PhD Programme in Experimental Biology and Biomedicine, of the Center for Neurosciences and Cell Biology, University of Coimbra, Portugal. The programme provided her training in emerging areas of contemporary Biology and Biomedicine, with courses given by leading portuguese and foreign scientists. She worked for two years with Dr. Jean-Marc Jacqué in the Centre for Research in Infectious Diseases, in the elucidation of the mechanisms of neuronal cell death during HIV-1 infection. During this time she spent three months in the laboratory of Professor Mario Stevenson in the University of Massachusetts Medical School.
---
Return