Latest Events
 The Irish Consortium on Gender Based Violence: 

The UCD Centre for Humanitarian Action host the Launch of report on Women, War and Displacement
‌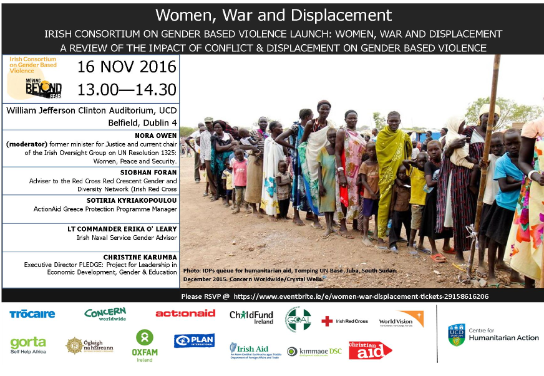 Wednesday 16 November 2016 13:00 – 14:30 GMT
William Jefferson Clinton Auditorium UCD Belfield 4 Dublin
RSVP: EVENTBRITE
---
Concern Global Hunger Index 2014
Lecture at 1pm, Wednesday October 15th

To mark the release of the Global Hunger Index 2014, Dr. Rosalyn Tamming, Head of Health Support Unit for Concern Worldwide, will present a lecture at UCD entitled The Challenge of Hidden Hunger.
This lecture will begin at 1pm sharp in room H1.37, UCD Science Hub.
Promoting Corporate Responsible Leadership and Shared Value in Humanitarian Action
The CHA is proud to join together with the UCD Business school to host a breakfast meeting 'to acquaint corporate leaders with opportunities to advance "shared value" in the humanitarian context'. This event is being held at the Camden Court Hotel February 6th at 8.30am and more information is available below via the link below.
Progressing Reconciliation -

Role of Peace Agreements in Societal Reconciliation: The Northern Ireland Case
Date: 1st November 2013
Venue: William Jefferson Clinton Auditorium, University College Dublin
Peace agreements act as frameworks for rebuilding society in post-conflict situations, oftentimes providing roadmaps for societal reconstruction and reconciliation. This seminar brings together internationally recognized experts on post-conflict reconciliation and community leaders to reflect on the adequacy of the Good Friday Agreement to facilitate societal reconciliation in Northern Ireland. Based on their extensive experience of working with communities, panelists with interrogate the progress made in reconciliation with particular reference to social institutions like education, religion and family.
The seminar is being jointly organized by UCD Centre for Humanitarian Action and Clinton Institute for American Studies in partnership with Network in Humanitarian Action, The Institute for International Humanitarian Affairs and the European Commission for Humanitarian Aid and Civil Protection.
The seminar will be of special interest to students, researchers, practitioners and community leaders interested in or working on societal reconciliation, especially in Northern Ireland. There is no participation cost.
To register kindly email: cha@ucd.ie or call +353 (0) 1716 7608 by October 30th.
The New Humanitarian Order??
This inaugural lecture will address the New Humanitarian Order. Given that the gap between the demand and supply of humanitarian assistance is widening, there is an urgent need to challenge fundamental issues such as: the relevance of the international humanitarian system; the appropriateness of the humanitarian principles in the 21st century; the effectiveness of humanitarian assistance in providing people with the best chances of receiving assistance; and the necessary changes needed to facilitate the fair and most proficient delivery of humanitarian assistance to those who need it most. All of this would point to the need for a new humanitarian order, but what will it look like and how will it be reached?
Speaker: Dr. Catherine Bragg, Adjunct Professor to the UCD-CHA
When: Thursday 17th October 2013, 6:15pm
Where: Theatre FS001, The Agriculture & Food Science Centre, UCD
Dr. Bragg is a former Assistant Secretary-General for Humanitarian Affairs and Deputy Emergency Relief Coordinator in the United Nations (2008-2013). As the ASG, she was the deputy head of the Office for the Coordination of Humanitarian Affairs (OCHA). Dr. Bragg was responsible for Canada's humanitarian assistance program from 2004-2008. She was appointed by the UN Secretary-General in 2005 and served two terms as a member of the Advisory Group of the UN Central Emergency Response Fund. She also served as a member of the Board of Directors of the Pearson Peacekeeping Centre and represented Canada on the Executive Committee and Executive Board of the United Nations High Commission for Refugees and the World Food Program. In total, she has visited over 90 countries and been involved in response to close to 30 humanitarian crises and situations.
Disaster risk reduction- a Concern Worldwide public talk
By: Dom Hunt, Concern Worldwide disaster risk reduction advisor
With: Aaron Clark-Ginsberg, UCD-CHA doctoral researcher
Venue: Theatre D, UCD Science Hub
Date: Wednesday, 16th October
Time: 18:00-19:30
To mark International Disaster Risk Reduction (DRR) Day in October, the UCD Centre for Humanitarian Action will be hosting a presentation and Q&A session on Wednesday October 16th at 6pm.
The session will be conducted by Dom Hunt, DRR Adviser with Concern Worldwide's Emergency Unit and is open to all interested in this area. Aaron Clark-Ginsberg, a doctoral researcher at the CHA, will also provide an overview of an ongoing Concern/UCD disaster risk reduction study involving 10 countries.
More information available at https://www.facebook.com/events/220412258122165/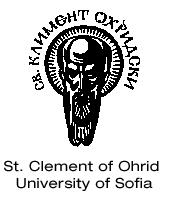 ‌
NOHA Spring School
The NOHA Spring School will be held from 28th-31st May 2013 at Sofia University, Bulgaria. The Spring School aims at training professionals dealing with projects in Humanitarian Action (HA) in order to give them a critical overview of HA in a multidisciplinary perspective and the relevant information for evaluation of projects. New challenges in HA will also be examined. Applications must be submitted through the online form along with a CV by 7th May 2013. More information can be found here (Sofia spring school general info) and the provisional programme can be found here (Sofia spring school provisional programme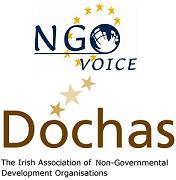 ‌Awareness Raising Seminar
To mark the occassion of the Irish EU Presidency and the presence of the NOHA Board, VOICE Board, and COHAFA representatives in Dublin, NOHA, VOICE and Dochas are hosting a roundtable event on the most pressing humanitarian issues for Europe at the moment. UCD CHA Director Pat Gibbons will be speaking in the introductory session. Issues coverd will range from the European Conensus on Humanitarian Action to the relevance of resilience on humanitarian action. The full programme can be downloaded here: Programme: Humanitarian Roundtable. Humanitarian Roundtable Ireland - 3 April 2013

EUPRHA Project Meeting - 19-21 March 2013
The UCD CHA will welcome representatives from all over Europe for the latest EUPRHA project meeting. For more details on EUPRHA and its initiatives please see here. EUPRHA can also be found on Facebook here.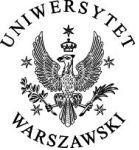 NOHA Annual Intensive Programme (IP), September 2012
The NOHA IP is an inter-university course for incoming Master's students organised jointly by the University of Warsaw and Universidad de Deusto. This year it will be held in Warsaw in September. The IP brings together all new Erasmus Mundus students and introduces them to key concepts, actors and issues in humanitarian action. The IP also acts as a forum from NOHA Partners and faculty members from around the world to meet and exchange ideas with each other and invited experts.