FIELDWORK OPPORTUNITIES
Vesuvian Archaeology Summer School 14-18 March 2016.
The Herculaneum Society is able to offer a number of scholarships of €250 to participate in this excellent week-long session, which is already accessibly priced. It takes place during the UCD study break. Details on the Society's website, www.herculaneum.ox.ac.uk.
Further Links:
Fieldwork opportunities across the globe are listed on the website of the American Archaeological Association: https://www.archaeological.org/fieldwork
Priniatikos Pyrgos Project: http://www.priniatikos.net/index.html. This is an archaeological investigation of a key site and its landscape setting in the western Gulf of Mirabello, East Crete, carried out under the auspices of the Irish Institute of Hellenic Studies at Athens, with the involvement of Dr Jo Day, UCD School of Classics.
PAST FIELDWORK EXPERIENCE
Fieldwork Experience - Allan Meiriño (UCD Stage 2, Latin & Archaeology Major)
Allan Meiriño is a currently studying Latin and Archaeology at UCD. He has kindly shared his fieldwork experience and pictures with us. The site is called I?oš Gradište, in Kikinda, north Serbia. It is a Neolithic settlement and also a Bronze Age enclosure.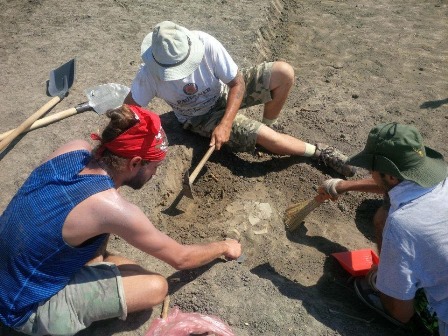 Allan Meiriño (left) digging a full ceramic pot (with Dr Barry Molloy, UCD and Milos, Belgrade University)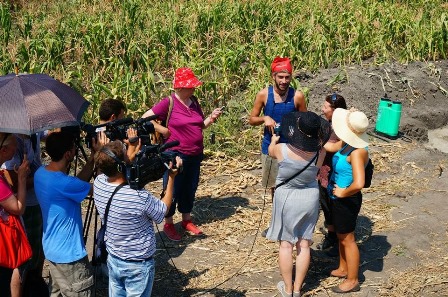 Allan Meiriño being interviewed by national and local Serbian television
Fieldwork Experience - Dr Maeve McHugh BA, MA, PhD (UCD)
I participated in the Mazi Archaeological Project (MAP) as a team leader on one of the three teams taking part during the 2015 field season. The project is a diachronic regional archaeological survey of the Mazi plain in northwest Attica, Greece. It is a collaboration between the Ephorate of Antiquities of West Attica, Piraeus, and the Islands, and the Swiss School of Archaeology in Greece. The project employs cutting edge spatial modelling, photogrammetry, and survey techniques as part of its methodology. My role as team leader involved working in a team of six researchers carrying out an intensive survey of the Koloumbi plain south-east of the larger Mazi plain. Our area of the survey proved to be rich in archaeological material, during the course of the season we identified several farmsteads dating between the Classical to Roman periods, terrace walls, kilns, wells, and a Byzantine settlement. You can find out more about the project the methodologies used at www.maziplain.org.