Brian Mooney
My Research - The role of the anorectic neuropeptide CART in breast cancer
‌‌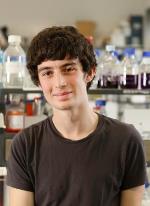 Estrogen Receptor positive (ER+) breast cancer accounts for 75% of all breast cancer cases, and is so called as ER is the main driver of growth in this type of cancer. Tamoxifen is one of the main anti-cancer drugs used to treat this type of breast cancer, and works by blocking ER activity. Unfortunately, 50% of patients will become resistant to Tamoxifen, highlighting the importance for a better understanding of Tamoxifen resistance. Previously, a molecule known as CART was shown to be highly expressed in breast tumours that had a poor response to tamoxifen, and could also activate ER. My project aims to get a better understanding of this mechanism by looking into the relationship between CART and ER, and whether there are other molecules involved in this. I also aim to look at what genes are transcribed by ER in response to CART stimulation. Through the above, my ultimate aim is to discover new therapeutic opportunities for patients who have become resistant to Tamoxifen.
Working with:
Dr Darran O'Connor

Brian is a PhD research student at BREAST-PREDICT, the Irish Cancer Society's Collaborative Cancer Research Centre based at UCD Conway Institute
Hometown
Bray, Co. Wicklow
A scientist because?
From a young age, I always found myself wondering how and why things worked. Science seemed like an obvious choice for me entering my undergraduate studies, and studying biochemistry for 4 years really made me realise how much I wanted to work in the field myself.
When I hang up my lab coat, I love to…
...I enjoy climbing in my spare time, as well as cycling around Wicklow and reading.
Why choose UCD Conway?
The UCD Conway institute is a great environment to work in due to the huge range of disciplines within the institute. With regular seminars and talks, I find it very easy to keep up to date with research in different fields which I find very interesting and useful. The Conway institute core facilities also provide state-of-the-art facilities in areas such as proteomics and imaging, which is hugely advantageous to my research.
Expected Graduation Date: September 2017
Watch out for Brian in the 2014 Irish Cancer Society annual report video
More Conway students