Lisa Dwane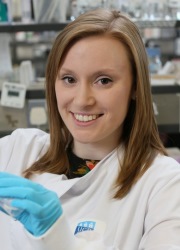 My Research - The role of the deubiquitinating enzyme USP11 in estrogen receptor-positive breast cancer
‌‌The estrogen receptor (ER) is the principal driver of growth and differentiation in breast cells and de-regulated receptor function is a key feature of ~75% of breast cancers. Patients with ER+ breast cancer can be treated with endocrine therapy, but unfortunately drug resistance often develops. This highlights the need to identify novel therapeutic targets to improve patient outcome.
My research is focused on the role of the BRCA2-associted DUB, USP11, in regulating the transcriptional activity of the ER in breast cancer. Previously, we performed an RNAi loss-of-function screen using a library of 432 shRNA vectors targeting all known human DUB genes. We found that suppression of USP11 repressed the activity of an estrogen-response-element (ERE) luciferase reporter both in the presence and absence of estradiol. These results, which lay the foundation for my research, propose a potential role for USP11 in driving cellular growth and representing a novel therapeutic target in breast cancer.
Working with:
Dr. Darran O'Connor
‌Lisa is a PhD research student at BREAST-PREDICT, the Irish Cancer Society's Collaborative Cancer Research Centre based at UCD Conway Institute
Hometown
Clondalkin, Dublin, Ireland
A scientist because?
Entering the field of scientific research is something I have always sought after, having been captivated by the subject since a very early age. Every day in the lab is new and exciting, and it is certainly one of the most rewarding careers to have.
When I hang up my lab coat, I love to…
...When I get the rare opportunity to hang up my lab coat, I love to relax with a good book or spend time with friends!
Why choose UCD Conway?
My interest in pursuing a PhD in cancer research was instigated during the time I spent completing my undergraduate research project in UCD Conway. The Institute plays host to such a vast range of equipment and technologies that will aid me in my research. There are also so many people from a number of different disciplines and there is always somebody to offer help and advice.
Expected Graduation Date: September 2017
Watch out for Lisa in the 2014 Irish Cancer Society annual report video
More Conway students