Professor Catherine Godson
Professor Godson's research group use the very latest techniques in molecular cell biology to find out why some people are susceptible to diabetes. Her research looks at what genes are switched on in the diabetic kidney, how they contribute to diabetes and whether there is any route to develop new therapies.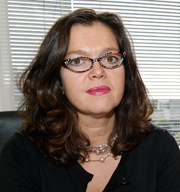 Professor Godson is a principal investigator in the UCD Diabetes Research Centre established in 2006 to investigate diabetes and its complications. Along with colleagues and international collaborators, she was recently awarded funding to search for genetic factors that influence the development of diabetic kidney disease using a multistage genome-wide association study.
Education
BSc and PhD from University College Dublin
Post-doctoral research fellowships from the American Heart Association and the University of California Cancer Research Coordinating Committee
Achievements
Committees:
UCD Human Subjects Ethics Committee
Health Research Board Ireland: Molecular and Cell Biology and Cardiovascular, Renal and Respiratory Disease Committees
The Dublin Chamber Knowledge Economy Committee
Professional memberships:
The Wellcome Trust Physiological Sciences Review Panel
Health Research Board Ireland
Editorial Board of Molecular Pharmacology
The Wellcome Trust National Kidney Research Fund (UK)
Awards:
1984 Cystic Fibrosis Association Postgraduate Research Scholarship
1987 Young Investigator Award, Third International Symposium on Nephrotoxicity
1989 University of California Cancer Research Coordinating Committee Post-Doctoral Fellowship
1990 American Heart Association Postdoctoral Fellowship
1992 University of Geneva Postdoctorate Award
1998 University College Dublin President's Research Award
Professor Godson has also spoken at numerous conferences on diebetic kidney disease.
More featured Conway Fellows