Professor David Brayden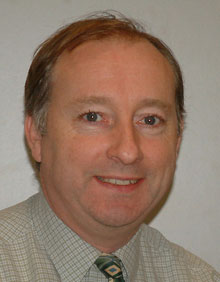 Professor Brayden is a principal investigator at the UCD Conway Institute and an Associate Professor of Drug Delivery at the School of Agriculture, Food Science and Veterinary Medicine.

Education
Undergraduate and Master's degrees from University College Dublin followed by a M.Phil and Ph.D in Pharmacology from Cambridge University. Professor Brayden went on to do a postdoctoral research fellowship in Stanford University.
Achievements
• Set up Elan Corporation's pharmacology lab in Dublin in 1991
• Has authored more than 100 research publications and patents
• Serves on the editorial advisory boards of Drug Discovery Today, European Journal of Pharmaceutical Sciences, Advanced Drug Delivery Reviews and the Journal of Veterinary Pharmacology and Therapeutics
• His research team was awarded the Best Research Paper Prize of the Journal of Veterinary Pharmacology and Therapeutics (2005)
• Chaired the UCD Animal Research Ethics Committee (2005-2007)
• Serves on the main UCD Research Ethics Committee and the President's Research Strategy Board
• Was Director of Research for the School of Agriculture, Food Science and Veterinary Medicine (2007-2008)
• Is lead principal investigator on the Irish Drug Delivery Network (IDDN), a Science Foundation Ireland Strategic Research Cluster (SRC) that was awarded €5.2m in November 2007
More featured Conway Fellows