2016 UCD Conway Festival of Research & Innovation
Date: 13 September 2016 15 September 2016
Venue: UCD Conway & Charles Institutes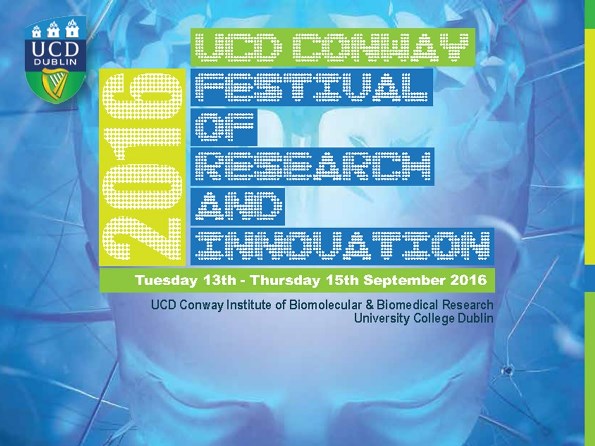 Programme

‌
2016 UCD Conway Festival programme (Final)
Distinguished Plenary Lecture
Dr Leroy Hood, Senior Vice President/Chief Science Officer, Providence Health & Services; President, Institute for Systems Biology, USA
'Systems Medicine and Proactive P4 Medicine: Transforming Healthcare through Scientific Wellness—A Personal View'
Plenary Lectures -
Professor Walter Kolch, Systems Biology Ireland & UCD Conway Institute
'Deciphering cancer and designing therapies through computational modelling'
Professor Eleanor Maguire, Wellcome Trust Centre for Neuroimaging, University College London, UK
'The Anatomy of Memory'
Dr Gerard Manning, Director of Bioinformatics & Computational Biology, Genentech Inc., USA
'Billions of Years and Trillions of Bases: How genome sequences and evolution can unearth biological history and the functional logic of life'.
Invited Lectures -
Professor Madeleine Lowery, UCD School of Electrical & Electronic Engineering
Professor Lorraine Brennan, UCD Conway Institute & School of Agriculture & Food Science
Dr Vladimir Lobaskin, UCD School of Physics
Professor Ron Pinhasi, UCD Conway Institute & UCD School of Archaeology
Professor Geraldine Butler, UCD Conway Institute & UCD School of Biomolecular & Biomedical Science
Professor Gerry Wilson, UCD Conway Institute & UCD School of Medicine
Early Career Researcher Forum -
'Exploring academia-industry collaborations for research careers'
What are the benefits and challenges to researchers of being involved in collaborative projects between academia and industry? Join the discussion with an expert panel on how academia-industry collaborations create jobs for researchers in both research and transferable skills roles, in academia and in companies. Hear from the funding agencies that support this type of collaboration.
Facilitated by broadcaster and science communicator, Shaun O'Boyle, Science Gallery
Abstract Call for Poster Exhibition - Closed
The Festival abstract call is now closed. Over 100 research abstracts will be exhibited on 14 September in either moderated or review sessions. The 2016 Conway Festival Medal, sponsored by Cruinn Diagnostics will be awarded for the best poster and presentation.
Moderated Poster Sessions: Shortlisted authors will give a 5 minute outline of research work including mention of any innovative potential to a committee including plenary speakers, Conway Fellows & UCD colleagues. Winners in each category will give a 5 minute oral presentation of their work in a dedicated Festival session on 15 September.

Poster Review Sessions: Authors will give 5 minute outline of research to a 2-person panel composed of senior postdoctoral researchers and/or Conway Fellows. ‌
Platinum Sponsors