Conway Fellow enrolled as member of the Royal Irish Academy
Conway Fellow, Patrick Lonergan, Professor of Animal Reproduction at the UCD School of Agriculture and Food Science has been enrolled as a member of the Royal Irish Academy (RIA). He is one of five UCD academics and twenty-two Irish scholars in total to be recognised by the academy for their internationally renowned accomplishments.
Professor Lonergan leads an internationally recognised group focused on the mechanisms underlying oocyte and embryo development, and maternal-embryonic communication during the establishment of pregnancy in cattle. He has a large volume of refereed research publications, has served on the Boards of several societies in his area and is Past President of the International Embryo Transfer Society.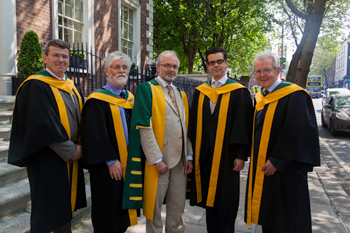 At the enrolment event, the President of the Royal Irish Academy, Professor Luke Drury, urged the government to make greater use of the resources available to it in the academic community, so that it can develop new and creative solutions and avoid the danger of 'group think':
"At a time when trust in public institutions has been greatly undermined, we need reassurance that government is receiving good advice on what it should do and how it should do it. The State can, and should, turn to the academic community for expert advice, at far less cost than commissioning expensive consultants, and thereby support genuinely independent and occasionally critical voices," he said.
Image: UCD scholars newly enrolled to the Royal Irish Academy (l-r): UCD Professor of Animal Reproduction, Patrick Lonergan; UCD Professor of Meteorology, Peter Lynch; President of the RIA, Professor Luke Drury; UCD Professor of History, Robert Gerwarth; and UCD Professor of Political Science, Richard Sinnott. UCD Professor of Politics, John Coakley was enrolled in absentia.

Read more
back