Media
Potential new treatment for psoriatic arthritis
During November, we are focusing on men's health and the ongoing research within UCD Conway Institute that aims to improve health and patient outcomes in men.
New research findings from an international team show promising signs of a potential new treatment for psoriatic arthritis in patients who have previously had an inadequate response to conventional drugs.

Psoriatic arthritis is a chronic, systemic inflammatory condition that affects the joints, tendons, ligaments and the skeleton. In general, inflammatory arthritis such as rheumatoid arthritis is twice as common in females as males. However, the picture in psoriatic arthritis is quite different with equal numbers of males and females affected and more males with spinal involvement.
This phase 3 clinical trial was carried out at 126 centres worldwide and involved 422 patients; 373 of whom completed the trial. The trial examined how well the drug, tofacitinib performed in altering the signs and symptoms of psoriatic arthritis in comparison to an active control drug, adalimumab and a placebo (no active ingredient).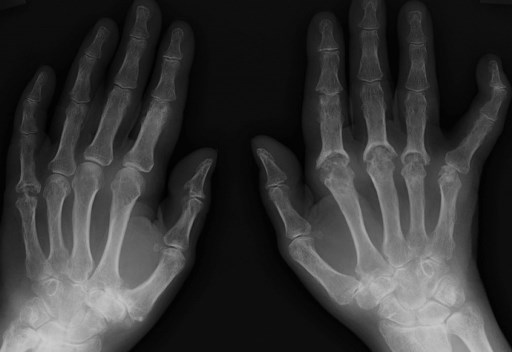 Image courtesy St Vincent's University Hospital, Dublin

Tofacitinib works in a different way to those drugs currently in use to treat psoriatic arthritis. This drug targets multiple stages in the inflammation pathway by influencing the cells involved in the process of inflammation, in joint destruction and psoriatic skin changes.

Patients were assessed after three months and after twelve months on their particular treatment regime. This assessment involved x-rays of hands and feet as well as evaluating a number of parameters such as arthritis activity in the joints and arthritis pain.

"The results of the trial showed that tofacitinib at a dose of 5mg or 10mg was more effective at treating psoriatic arthritis than the placebo. More than 90% of patients treated with tofacitinib or adalimumab showed no signs of joint damage progressing", explained Professor Oliver Fitzgerald, Consultant Rheumatologist in St Vincent's University Hospital and Fellow, UCD Conway Institute who is a co-author on the study and helped to interpret the data.

"Some patients treated with this drug had adverse events as compared to those receiving the placebo but theses adverse events were similar to those previously described in rheumatoid arthritis studies. We now need to investigate whether long-term treatment with tofacitinib is a safe and effective alternative for patients with psoriatic arthritis that do not respond to conventional therapies."

The findings are published in the New England Journal of Medicine and available online at http://www.nejm.org/doi/full/10.1056/NEJMoa1615975: Tofacitinib or Adalimumab versus Placebo for Psoriatic Arthritis. P. Mease, S. Hall, O. FitzGerald et al. N Engl J Med 2017;377:1537-50. DOI: 10.1056/NEJMoa1615975
back