Featured Researcher: Dr Alan O'Doherty
My Research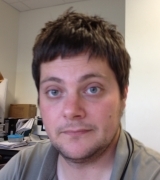 Main research interests are in the fields of developmental biology & reproduction. More specifically, an understanding of the mechanisms involved with, and factors that might affect, reprogramming the epigenome during gametogenesis and embryogenesis. Current investigations include deciphering the effect of ART production systems on the establishment and maintenance of epigenetic modifications (DNA methylation) during preimplantation embryo development and profiling of epigenetic processes, combined with live cell imaging, in the oviduct during the oestrus cycle.
Role
Postdoctoral researcher with Professor Sabine Koelle
Hometown
Portstewart, Northern Ireland
Education
BSc (Hons) Biomedical Sciences, Dip Industrial Studies, PhD
Career Path
During my degree programme in the University of Ulster, Coleraine, I undertook a placement year at the University of Nevada, Reno where I worked in the laboratory of Professor David Westfall to investigate the effect of neurotoxic peptides (conotoxins) on the release of neurotransmitters at neuroeffector junctions in sympathetic neurons. After qualifying in 2003 with a BSc (Hons) Biomedical Sciences and Diploma in Industrial Studies, I returned to the University of Nevada to complete a postgraduate programme for cell & molecular biology with a project focused on germ cell specific genes, and their role in successful gametogenesis. In 2009, I completed my PhD project 'Investigating the cellular control of Dnmt3L, a protein expressed in during gametogenesis and in stem cells' in the Stem Cell and Epigenetics group in the University of Ulster. I took up a position as a postdoctoral researcher in the Reproductive Biology Research Cluster in the UCD, School of Agriculture and Food Science focused on establishment and maintenance of epigenetic marks in gametes and embryos, from both in vivo and in vitro origins. During this time, I was a visiting researcher at the Département des Sciences Animales, Université Laval, Québec, Canada looking at global methylome profiling of peri-implantation in vivo, in vitro and superovulation derived bovine embryos. Now in UCD School of Medicine & Medical Science, I am focusing on live cell imaging and molecular analysis of the bovine oviduct during the oestrus cycle to elucidate mechanisms involved with successful fertilisation.
Publications
Listing on Researchgate | Google Scholar
Why choose UCD Conway?
I chose the UCD Conway Institute due to its excellent facilities and reputation for high level research.
Meet more Conway researchers