Colloquia & Speakers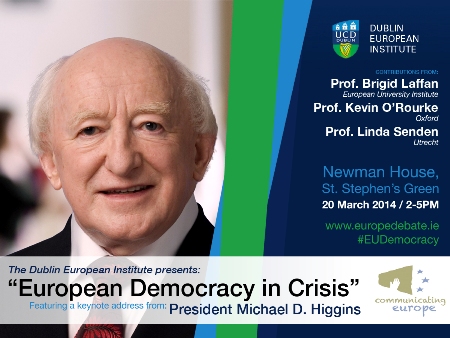 On March 20th we hosted an event on "European Democracy in Crisis" to re-launch the Dublin European Institute (DEI) at UCD. The symposium took place in Newman House, St. Stephens Green and opened with a keynote address by the President of Ireland, Michael D. Higgins at 2pm. This was followed by three contributions from leading public intellectuals with diverse scholarly backgrounds, Prof. Kevin O'Rourke (Oxford), Prof. Brigid Laffan (EUI), and Prof. Linda Senden (Utrecht).
The event was designed to engage with as many citizens as possible. It was live-streamed at www.europedebate.ie, and all participants were invited to use social media to share their reflections. The twitter hashtag was #EUDemocracy.
The live stream URL is as follows:
http://media.heanet.ie/live/947ba5b747e542268f091d85e9c85a42
To view the Irish Times coverage of the event click here