UCD ID Investigates: Can you cool a PC using Mineral Oil?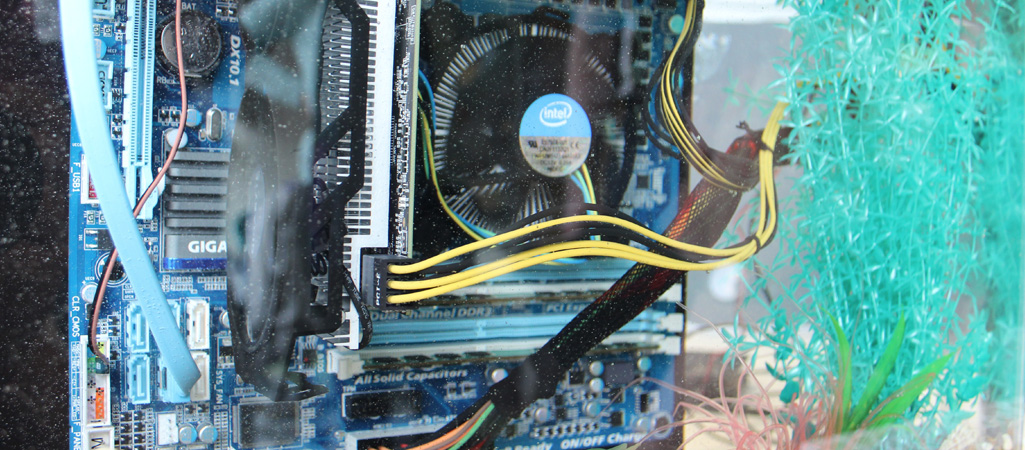 Why use Mineral Oil?
Computers, especially high performance computers, tend to generate a lot of heat. For example, a graphics card can reach temperatures of 90° C and beyond! That's why it's important to have proper cooling in place. Without it there is a risk of damaging the parts. Most PCs are cooled using air or water. Air cooling is the most popular method, but it can get very noisy. On the other hand, leakages from the water cooling loops can cause damage beyond repair.
That's where Mineral Oil cooling comes in. Mineral Oil is safe to use as it is non-conductive, meaning the components won't get damaged if they are fully submerged. It is ideal for setting up a near silent PC or a server in a data centre. Currently companies such as Intel and Facebook use Mineral Oil for their servers, so we decided to investigate the cooling potential of Mineral Oil.
Computer Aquarium project
A fun way of testing this was to create a compter aquarium, which was demoed at the annual UCD Science Festival. With some standard equipment - a fish tank, motherboard tray and desktop PC components, the team took on the project.
The UCD Institute for Discovery demoed the Mineral Oil cooled PC as part of the UCD Festival. The computer aquarium is still on display in the UCD Institute for Discovery on the ground floor of the O'Brien Centre for Science. Special thanks to Alex Gubic, Tara Byrne, Shane Walsh, Brendan Murray and Alan Benson for making this project possible.