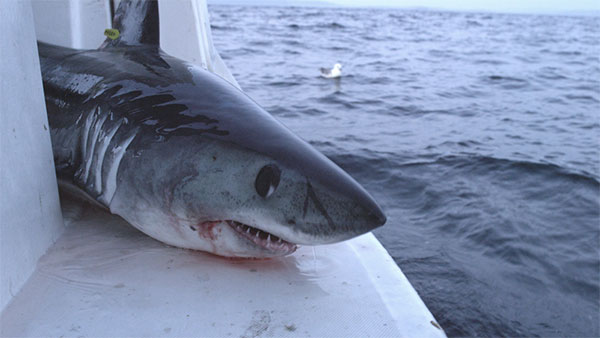 Bella tagged and ready for release (c) Ken O'Sullivan featured on RTÉ One series 'Ireland's Oceans'
Dr Edward Farrell a postdoctoral researcher in Dr Jens Carlsson's Lab ( Area 52) at the UCD School of Biology & Environmental Science was featured on the new RTÉ One series 'Ireland's Oceans (a new four part ocean wildlife series produced by Ken O'Sullivan of Sea Fever Productions) last night, Sunday the 29 June 2014. The series explores the wonderful and diverse creatures that live in the seas around Ireland, from dolphins and sharks to plankton and the myriad of tiny colourful creatures that live in our shallow waters.
The episode aired on the 29 is the second in the series and focused on Irish sharks, highlighted the porbeagle tagging project that Dr Farrell is collaborating on with Dr Maurice Clarke from the Irish Marine Institute and Dr. Ryan Saunders from the British Antarctic Survey. Since 2008 the researchers have been satellite tagging porbeagle sharks off Donegal and tracking their movements around the north Atlantic in an effort to learn more about this critically endangered species. Porbeagle sharks used to be abundant in Irish waters but were fished to the brink of extinction. In recent years efforts have been made to save them and although directed fishing is now prohibited the tagging research is essential to learn more about the species and how to conserve them. If you missed the shark episode it is now available on the RTE player. If you want to track the sharks yourself you can find a live 'Porbeagle tracker' on the Irish Elasmobranch Group's webpage. More information about Dr Farrell's research is available on research group Area 52's webpage and blog.