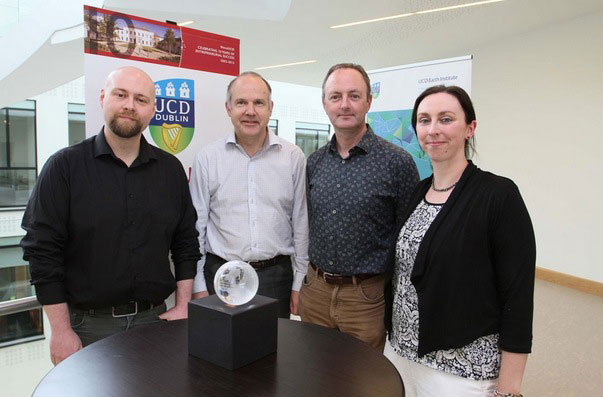 Laura Tobin, a UCD PhD engineering student, wins the inaugural UCD CleanWeb Sprint with an early-stage business idea focused on LEDs as an alternative light source for solar simulators.
Laura is carrying out research in collaboration with UCD Professor Ravindranathan Thampi and under the supervision of UCD Prof John T. Sheridan on high-powered LEDs as an improved alternative light source for solar simulators. The results of Laura's research demonstrate that LED lights can be easily varied on a real-time basis to allow tailored artificial sunlight to be used for both photovoltaic testing and indoor lighting. Using a sensor to detect the level of light in a room or location, the technology can then vary the light intensity and spectral distribution accordingly.
Solar simulators are light sources which simulate natural light and are used for photovoltaic testing and for the provision of indoor lighting. The bulbs currently used as light sources tend to have relatively short life spans, are expensive to purchase and have high maintenance requirements.
Speaking at the event Elliott Griffin, Director at Business Venture Partners, said he was 'impressed with how relevant the research projects are to other commercial ventures outside of the University and the how the quality of the projects made the judging process very difficult'.
The UCD CleanWeb Sprint is a new one-day initiative designed and delivered by the UCD Earth Institute in collaboration with NovaUCD. The Sprint, which took place on the 16 May in the UCD O'Brien Centre for Science, involved a total of 4 early-stage CleanWeb business ideas being developed by UCD researchers and scientists. The aim of the event was to engage with researchers who have not previously explored commercialisation opportunities and provide them with a greater understanding of the their business ideas and their potential.
During the one-day Sprint a number of internal and external technology and business professionals collaborated with the UCD researchers to explore the commercial potential of transforming their research ideas into early-stage CleanWeb business ideas.