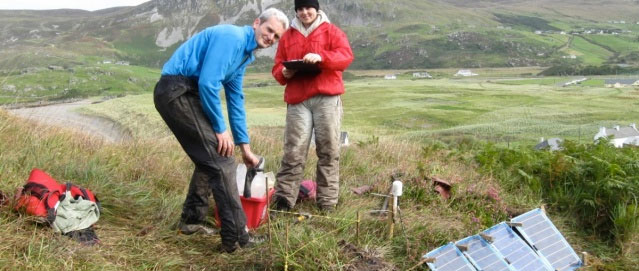 Sensors equipped with eMobile SIMs act as virtual ocean buoys to measure wave strength
Real-time seismographic data opens the door for commercial applications for scientific research
An innovative SFI-funded research program at University College Dublin is leveraging eMobile, eircom's mobile network, to bring new capabilities to earth science researchers in the lab.
The ambitious Wave-Obs project, led by UCD Professor Chris Bean, is aiming to measure the force and location of the most energetic Atlantic Ocean waves off Ireland's West Coast. Powerful waves generate subtle seismological vibrations which can be detected by land-based sensors. But until now the only means of collecting data from these remote sensors was by physically traveling to each site in the sensor network and manually downloading data recorded.
Now a novel approach being explored by Prof. Bean, his colleague Dr. Martin Möllhoff and the Wave-Obs team at UCD. This involves connecting the seismometers directly to 3G routers equipped with eMobile SIMs, allowing data to travel across the mobile network, straight to scientists in the lab.
We need to determine the temporal and spatial distribution of the largest waves in this part of the ocean, and there are exciting practical applications in everything from marine safety to assessing potential sites for renewable energy systems that use wave power," Prof. Bean said. "Ocean buoys are the traditional way to measure wave height, but they're expensive to deploy. The idea is to create a complementary system to the existing ocean infrastructure, multiplying the effectiveness of the buoy network by using these land-based sensors. It is a great deal cheaper and more effective to monitor wave energy through an onshore detection network rather than deploying additional buoys."
Read more at UCD Case Study.