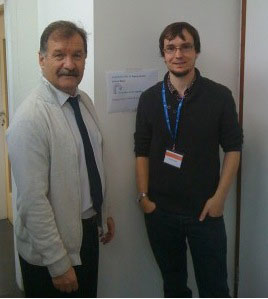 UCD Earth Institute member Dr Brendan Williams with former student Dr Cormac Walsh
Dr Cormac Walsh, HafenCity Universitat Hamburg, returned to UCD to attend in the UCD Earth Institute Earth Gathering pop-up sessions which took place on the 15 November.
Dr Walsh is a PhD graduate of the former UCD Urban Institute Ireland (now UCD Earth Institute) Urban Environment Project. This was a multi-disciplinary, inter-institutional research project carried out to better understand the link between development, land-use change and associated economic and environmental impact within urban regions.
Dr Walsh attended UCD Earth Institute member Dr Brendan Williams' pop-up session 'Spatial indicators in the context of land-use change and modelling' and was one of the speakers in Institute's debate series disusing 'Housing Policy; Efficiency and Fairness'.