The 4th December 2014 saw the culmination of nearly 4 years of planning, design, construction and fit-out, as the UCD Earth Institute marked the opening of its new facilities on the 4th floor of the O'Brien Centre for Science. Funded through the PRTLI 5 award to establish a centre for earth and environmental sciences within the UCD Science Centre, the facilities provide a state-of-the-art setting for the collaborative research underway within the UCD Earth Institute.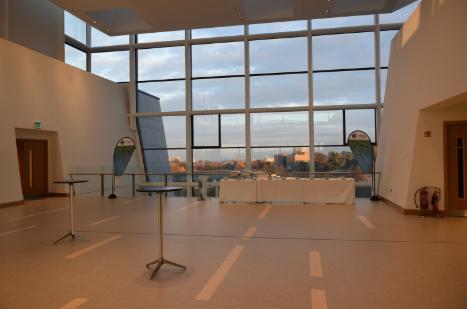 UCD's Vice President for Research, Innovation and Impact, Prof Orla Feely was on hand to congratulate Institute members on the event, and on the achievements of the Institute to date: "The Institute has taken very seriously its brief to inform and influence policy", she said. "It has also implemented an extensive programme of public engagement events designed to raise awareness of significant challenges and inform public behaviour through evidence-based research….The Institute's programme of innovation activities has also strengthened a culture of engagement with industry and enterprise at all scales and across all sectors." She concluded her remarks by hoping the Institute will go from strength-to-strength on foot of its move to the new site and access to the new facilities.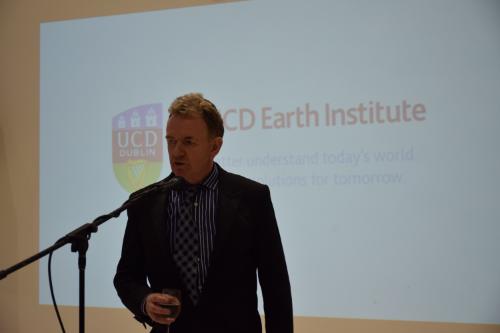 During the evening Institute Director, Prof Gregory O'Hare, also offered a vote of thanks to two former Directors, Prof Chris Bean and Prof Fiona Doohan, each of whom steered the Institute through a section of its journey to this point. The concentration of a large group of Institute researchers in this new location marks the first time the Institute has had a formal and visible home since it was funded in 2010. In combining the research activities in life and computational sciences facilitated in the Science Centre site with the activities in policy, planning, engineering and architecture centered around the Richview campus, the UCD Earth Institute is Ireland's largest centre of expertise on matters relating to the environment and the significant challenges facing it today.