Dr Aggeliki Georgiopoulou Irish Times interview: Drilling the seabed for answers to Earth's mysteries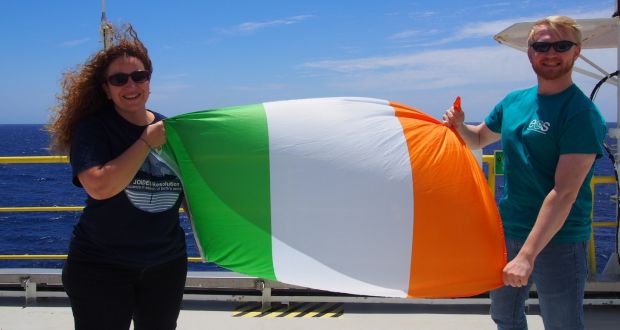 Dr Aggie Georgiopoulou and Dr David McNamara aboard the JOIDES Resolution, sailing in the sourthern Pacific. Photograph: Dr Erin Todd
The Irish Times has featured the research of Dr Aggeliki Georgiopoulou in an article titled 'Drilling the seabed for answers to Earth's mysteries'. The full piece, which interviews our own Dr Aggeliki Georgiopoulou and Dr David McNamara (NUI Galway) can be found on The Irish Times website.
Dr Aggeliki Georgiopoulou set sail on JODIES Resolution (JR), part of the Integrated Ocean Discovery Program (IODP) exp 372 at the end of November 2017. The expedition started in Freemantle, Australia and finishes in Wellington, New Zealand in early January 2018. Aggie has been keeping us up to date via her Aggies Travels blog, reporting on her daily activities and life on JR. You can read about the primary objectives of this expedition in our initial news item here.
To find out more about current expeditions here is the blog of the scientists onboard JR http://joidesresolution.org/blog.
Photograph: Dr Erin Todd