Steven Malcolm Millan, P.Geo. (1936 – 2016)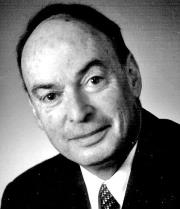 Steve Millan died on May 27th 2016. He was the beloved husband of Brenda, father of David and Jim, father- in-law of Roxanne and Bernice and grandfather of Kelsey, Eoin, Jonathan and Rachel.
Steve Millan was educated in Geology at University College Dublin, Ireland, graduating in 1960.
His career spanned 50 years in the oil & gas industry. Beginning in Trinidad in 1962, he was a petroleum geologist with Texaco and later British Petroleum working in both onshore and offshore exploration. In 1973 Steve moved to Newfoundland to take up the position of Assistant Deputy Minister in the newly-established Petroleum Energy Resources Branch of the Department of Mines and Energy. In 1979 he became the Executive Director of the Newfoundland & Labrador Petroleum Directorate. During this time, Steve steered the development of the province's basic resource development philosophy and regulatory framework. Leaving the provincial government in 1980, Steve worked as a consultant with United Nations development projects, the Commonwealth Secretariat and the Canadian International Development Agency (CIDA), helping developing countries to grow their petroleum industry management capacity.
In 1983, Steve moved to Calgary, where he was PetroCanada's Frontier and International VP and President of PetroCanada International Development Corp. In these roles he was responsible for the Company's exploration program for the entire East Coast during the 1980s. A major success of his group was the discovery and subsequent development of the Terra Nova field. In 1988, Steve returned to Newfoundland and was engaged in a variety of ventures in the areas of technology development and oil and gas resource development throughout the 1990s, including NorTek Engineering, C-CORE and Memorial University's Telemedicine Centre. From 1998-2011, Steve was Chairman and CEO of Canadian Imperial Venture Corporation and steered the publically-traded Newfoundland company to carry out exploration in the Newfoundland onshore Oil & Gas plays in Western Newfoundland.
During his career, he served on numerous industry, university, governmental and professional boards and committees. As an energy consultant, Steve worked in 26 countries worldwide, to help developing nations establish their fledgling oil and gas regulatory regimes, notably in Guatemala, Pakistan and Botswana. He was a regular visitor to Ireland in recent years, visiting his alma mater and sharing his experience with Geology and Petroleum Geoscience students at UCD.
Steve was a lifetime member of PEGNL (Professional Engineers and Geoscientists of Newfoundland and Labrador) and in 2006 he was the recipient of PEGNL's highest award, the Award of Merit. Also in 2006, he received the Newfoundland Oil Industry Association (NOIA) Outstanding Contribution Award for taking the lead role in the Government of Newfoundland and Labrador's offshore resource management team and as a key participant in the development of the technical, legislative, policy, and strategic tools required for the efficient and beneficial development of the offshore.