Research by UCD School of Education Assistant Professor, Seaneen Sloan, Featured by Northern Ireland Education Minister
The Northern Ireland Education Minister, Peter Weir, has welcomed a report evaluating the effectiveness of Nurture Provision in primary schools in Northern Ireland. The evaluation was undertaken by a research team at the Centre for Evidence and Social Innovation. Dr Seaneen Sloan (now at the UCD School of Education) led the research, which examined the impact of the 30 nurture groups then funded by the Department.
Speaking at the launch on Thursday 22nd September 2016, the Minister said: "Many children are facing very challenging circumstances on a daily basis and yet we, as a society, expect them to come to school, to sit calmly at a desk, and start working through the curriculum."
"The reality is that some of these children need help. Thankfully with some assistance from teachers, many children have little difficulty getting through the school day however many still do. That is why early intervention through nurture was introduced. Acting now can help prevent escalating difficulties at a later stage and at a much greater cost. Those costs are not just relating to education but to other services such as health and justice. The report produced by the Queen's University research group bears this out."
The Minister continued: "Through this pilot programme we have been able to transform the educational prospects of some of our most vulnerable children. In the coming months I will be looking at ways to mainstream nurture provision in the future and will consider carefully how to best ensure that resources are targeted to those schools with children in greatest need. I will also explore how best my department can work collectively with other Executive Departments that have a vested interest in children's social and emotional development, mental health and future life chances."
The full report can be downloaded from the Department of Education's website.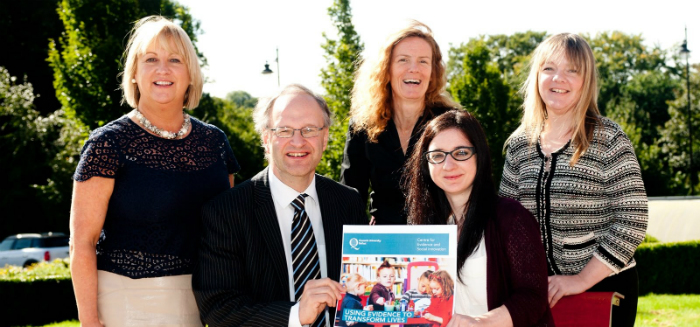 Pictured with the Education Minister, Mr Peter Weir, are members of the research team (left to right): Aideen Gildea, Dr Karen Winter, Dr Seaneen Sloan (Principal Investigator) and Dr Fiona Lynn