UCD School of Education Faculty and Students Present at Annual Conference for the Educational Studies Association of Ireland
The annual conference of the Educational Studies Association of Ireland took place in Cork, 20 -22 April 2017, and UCD Education was well-represented at the event.
Dr Conor Galvin is the current President of the Association which meant he had the task of convening the opening panel. The keynote speaker Dr Anne Looney joined Conor and a number of invited guests to discuss the conference theme "Changing Research; working the spaces between education policy and practices" – a theme which challenged us as researchers and practitioners to consider the expectations driving education research work in contemporary Ireland and beyond; along with the opportunities this presents. This was an open session and there was standing room only at the event which featured contributions from Dr Looney herself, Prof Kathy Hall, Dr Mairin Glenn, Mr Tomás Ó Ruairc, Dr Emer Smyth, and Prof Donal Mulcahy. The latter was one of the group who founded the ESAI and called the first full, open ESAI conference in the same venue – UCC Cork- 40years ago.
The conference was widely regards as one of the most engaging of recent years and a wonderful mix of new and older voices certainly showed how vibrant the world of educational research is on the island.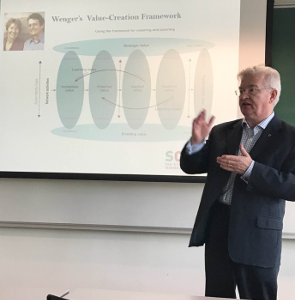 Dr Conor Galvin, UCD School of Education Lecturer and President of ESAI, presents on the ongoing research by the Standing Council on Teacher Education North & South ( SCoTENS) at ESAI 2017
Elena Revyakina UCD Doctoral Student and ESAI Executive member works on the conference programmes; the unsung hero part of any event!