School of Education and UCD School of Computer Science welcome the first group of UCD Microsoft Award holders to the new

PDES

(

Computational

Thinking

) programme
Computing & Computer Science has recently become the focus of an exciting curriculum initiative at leaving Certificate level. UCD School of Education and UCD School of Computer
Science in collaboration with Microsoft Ireland have stepped-up to this challenge by launching a first of its kind Professional Diploma in Education (

Computational

Thinking

).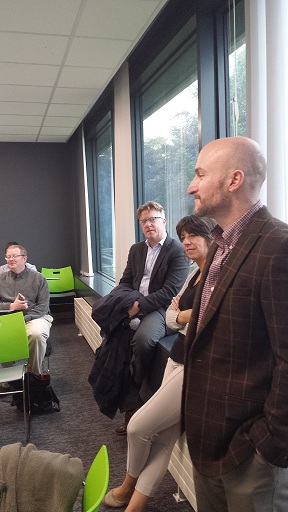 ‌
This 30 ECTS programme provides an introduction to and extensive practice in the core understandings and capabilities necessary to engage successfully in CT and CT-related teaching & learning in the Irish, post-primary setting and context. It is designed in support of the ongoing DES initiative and represents a unique university / industry partnership in this area. The participants include the first cohort of UCD Microsoft Award holders with plans to sponsor the participation of up to 30 such Awards over the coming two to three years. The institutional focus of the Diploma is with UCD School of Education partner schools prioritising those working in DEIS and/or all-girl settings. The initial cohort is now engaging in the education components of the programme which involve

computational

thinking

, learning design practices, assessment and moderation, and working with digital technologies in post-primary teaching & learning contexts. For further details please contact:
educationenquiries@ucd.ie
Picture 3: At the launch were Professor Padraig Cunningham, (Head, UCD School of Computer Science), Dr Kevin Marshall (Microsoft), Professor Dympna Devine (Head, UCD School of Education), Dr Brett Becker (UCD School of Computer Science) and Dr
Conor
Galvin, UCD School of Education.
‌