‌Long Service Awards
From 2018, following a proposal from the Employee Engagement Network, the University is recognising long service of their employees at 10, 25 and 40 years. The criteria for these awards are as inclusive as possible and celebrate the years that employees joined*, assuming they are currently employed, have held contracts with the University over that period and have not had breaks longer than 2 years.The 10 year awards are presented locally at College/VP level.
The 25 and 40 year awards will be presented at an event hosted by the President.
* i.e. in 2018 we are celebrating those who joined in 2008, 1993 and 1978 or prior and have reached their 10, 25 or 40 year anniversary of service in 2018.
UCD Values in Action Awards
Also initiated in 2018 by the Employee Engagement Network, the UCD VIA (Values in Action) Awards recognise colleagues who bring the University's values to life. Nominations are made by colleagues across UCD and five awards are presented annually.
The awards celebrate individuals or teams/committees who;
act as ambassadors for the UCD Values through their daily work,
establish initiatives that bring the UCD Values to life,
volunteer within the UCD Community demonstrating the University Values in action.
The awards are open to all employees of UCD (full-time, part-time, permanent or temporary) who have worked in UCD for at least 2 years at the time of the nomination. They may be nominated by any member of the UCD community (employees, students, those working on campus or alumni).
2018 VIA Awardees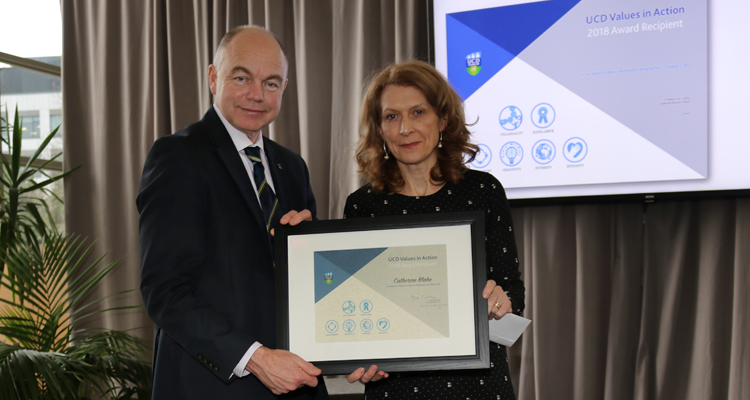 Awardee: Catherine Blake

Catherine Blake is Associate Professor in the School of Public Health, Physiotherapy and Sports Science.
Catherine was nominated by several colleagues with the adjudication panel choosing to award the VIA based on the nomination by Suzanne Bailey in UCD Sport. Suzanne outlined the many collaborations between UCD Sport and the School of Public Health, Physiotherapy and Sports Science kick-started by Catherine. This has resulted in a very close working relationship in terms of research, academic programmes and service delivery for UCD and the wider community.
Examples give included:
Physiotherapy students work with UCD and community clubs to provide first aid cover as part of their academic module
Catherine was one of the founders of the Get in Gear Programme which over 1,500 inactive students have taken part in
She was co-founder of UCD Physio Hub, building clinical education capacity and serving the UCD and wider community through outreach activities such as the Better Bones initiative
Catherine's is constantly looking for ways to improve the education of students in UCD, giving them practical hands on experience while also delivering benefits to the wider community. She exemplifies all the values of this University.
---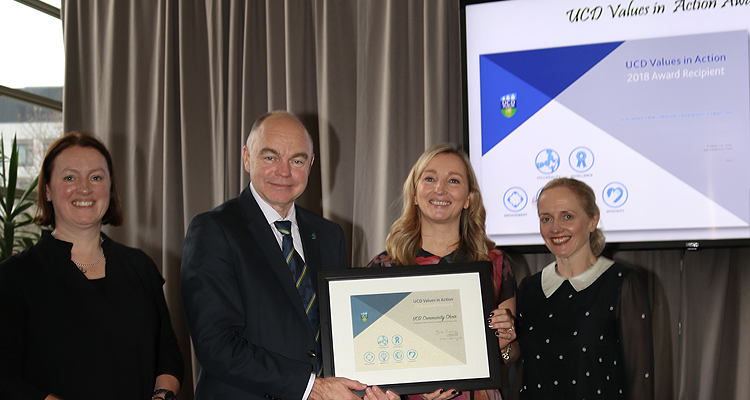 Awardee: UCD Community Choir
The UCD Community Choir was nominated by Gayle Baird and Conor Buggy as ambassadors of all six university values.
The choir has breathed life, fun and energy into events and showcases UCDs commitment to equality, diversity and inclusion. It engenders a sense of collegiality and has allowed new connections to flourish between parts of the University that may never have had contact with each other. As a creative outlet, staff members of all types and levels have been able to express through song the combined creative efforts of approximately 200 voices.
The choir showcases the diversity of the UCD community and how from diversity arise strength and integrity. Through the choir not only has the wellbeing of the choir members been improved but also fellow community members that hear them. Engagement has been widespread including a concert in the Iveagh Gardens for the Homeless, and on campus performances at UCD Mental Health week, International Women's Day and the UCD Festival, to name but a few.
Paula Fogarty, Genevieve Dalton and Caoimhe O'Neill accepted this award on behalf of the choir.
---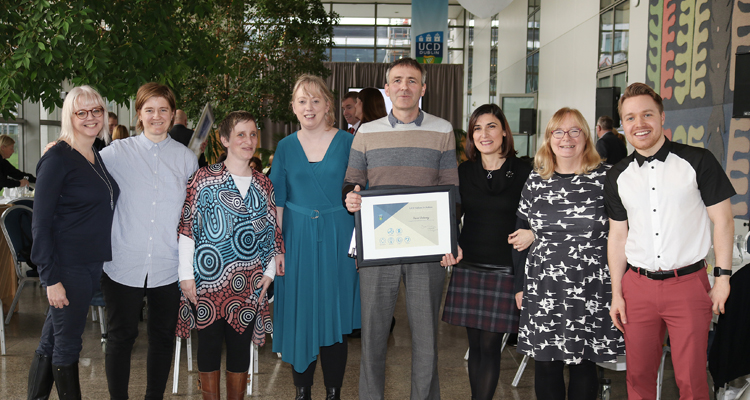 Awardee: David Delaney

David Delaney is a programmer in UCD IT Services.
David was nominated by Aoife Kavanagh, Darren Reid, Michael Lennor, Giuliana Rocca, Catherine Tormey, Mary Flood, Terry Barrett, Steven Kelly, Aoife O'Brien and Siobhan McNamara for the values of engagement, integrity, diversity and creativity.
A continual theme across the large number of nominations received for David has been how he advances UCD values through his mindfulness workshops and classes. In these he embraces a spirt of collegiality, collaborating with colleagues across campus to offer sessions to a diverse range of students and staff. Many of the nominations talked about David's integrity and how his efforts are all voluntary, taking place mostly at lunchtime.
Improving the wellbeing of UCD staff and students was also a consistent theme mentioned by David's nominators. David's efforts are equally appreciated by students and staff alike and a fitting example of living UCD's Values.
---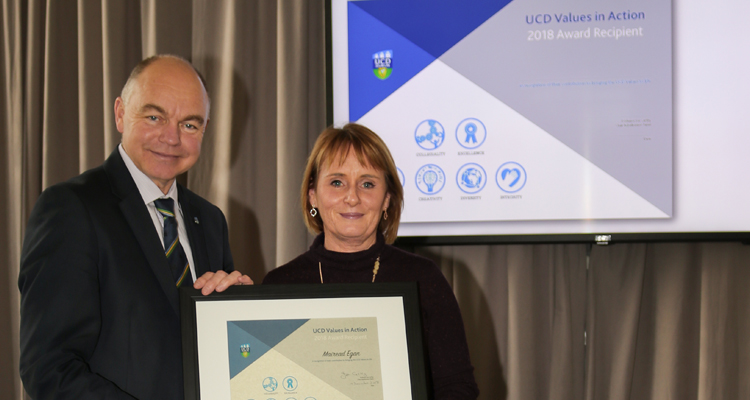 Awardee: Mairead Egan
Mairead Egan is manager of the UCD Centre for Emergency Medical Science in the UCD School of Medicine.
She was nominated by Rory Carey for the values of collegiality, creativity, engagement, diversity and excellence.
Mairead was the driving force behind establishing UCD's Restart a Heart Day in 2016 with the aim of training as many students and staff as possible in basic CPR. In 2016, 535 UCD students and staff were trained, growing to nearly 600 in 2017. She achieved this by bringing together colleagues in the UCD Centre for Emergency Medical Science, Student Health Services, Culture and Engagement-UCD HR, UCD Students' Union, Healthy UCD and UCD IT Services along with the National Ambulance Service, the Defense Forces, CFR Ireland and the Pre-Hospital Emergency Care Council.
Mariead recognised the need for an Irish based training video and coordinated its produced with the help of IT Services and other volunteers. This has increased the reach of the restart a heart initiative, with the video being used by other clubs off campus to run training sessions with Mairead's support.
Mairéad has demonstrated exceptional commitment and contribution to the UCD Values by leading out on this flagship UCD Community initiative.
---
Awardee: Tina Lowe
Tina Lowe is Campus Accessibility Officer in the UCD Access and Lifelong Learning Unit.
Tina was nominated by Eimear O'Reilly for the values of excellence, collegiality and diversity. In particular Eimear highlighted how Tina strives to create a supportive community in which every student and employee is enabled to reach their full potential. Her ability to engage stakeholders in a collegial manner and with integrity across the University has created greater visibility and awareness about disabilities.
In addition to her role as campus accessibility officer, Tina gives her time as Chair of the UCD Staff Disability Network, leading the network, developing initiatives and events and offering peer support to staff with a disability in UCD.
Tina is a role model who through her work and voluntary activities brings the UCD Values to life on a daily basis.
---
Awardee: Patricia Maguire
Patricia Maguire is Associate Professor in the School of Biomolecular and Biomedical Science.
Patricia was nominated by Mark Simpson for the values of engagement, diversity and collegiality and the adjudication panel were particularly impressed with the example given to illustrate this.
In 2016 she came up with the idea of a pop-up choir at the UCD Festival to promote diversity and as a recognised method of improving mental health. From an initial small start at the Festival, Patricia was instrumental in growing the UCD Community Choir to over 200 members today. Her enthusiasm for this initiative demonstrates her collegiality, belief in diversity and willingness to encourage engagement activities for the UCD community.
In her capacity as Chair of the UMT Equality, Diversity & Inclusion Communications and Events Sub-group, Patricia sphere-headed Strictly UCD. 40 dancers (including Patricia) from across the community were encouraged and cajoled(!) by her to rehearse a range of dances which were then performed to a large audience in O'Reilly Hall in March 2017. The event not only engaged the dancers but also the 550 supporters who attended the event and raised €24,000 for charity.
Through Patricia's efforts UCD is a more engaging place to work where colleagues feel part of a diverse and connected community.



---
2018 VIA Nominees

49 nominations received (some nominees were nominated by more than one nominator)


Dr Alfonso Blanco
Dr Conor Buggy
Colum Cronin
UCD Common Room Committee & Staff
Gary Dunne
FEMPI & PSSA HR Implementation Team, UCD HR
Tasneem Filaih
Dr Graham Finlay
Aoife Fitzgerald
Dr Hamish Fleming
Prof. Judith Harford
Eimhear Ní Dhuinn
Caroline Mangan
PharmTox UCD Society
UCD Purl Jam
Edel Quinn
Éimear Ryan
Science Social Committee
Social Science Programme Team
Suite Science Team
UCD Mindfulness
Assoc. Prof. Brian Vohnsen
Annette Wallace
Women in the Sciences

2018 VIA Awards Adjudication Panel


Professor Joe Carthy (Chair)
Professor Alan Baird
Dr Majella Fahy
Shauna Hughes
Susan O'Donnell (PWC)
Mark Simpson (Secretary)
Learn more about the UCD Values In Action Awards