Feeding the World in 2050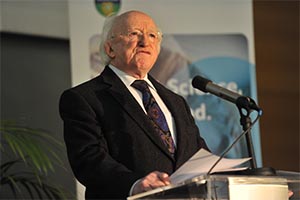 By the year 2050 the global population will have risen by 50% with an additional 3 billion mouths to feed. In the same period, it is predicted that climate change will cause agriculture output to fall by as much as 25% in at risk areas.
In January 2013, the Institute hosted a two-day symposium to discuss possible global actions and solutions to these issues. The symposium was held in association with the Irish Presidency of the Council of the EU, the Food Safety Authority of Ireland and the Department of Agriculture, Food and the Marine. It was attended by over 200 delegates from around the world and its aim was to stimulate policy makers to consider the issue of global food security and the role which Ireland can play in the area.
The conference was opened by the President of Ireland Mr Michael D Higgins with presentations from leading experts in the areas of food security, biofuels and climate change. Mr Simon Coveney, TD, Minister for Agriculture, Food and the Marine, gave the closing address.
All the presentations from the two day event can be watched below and the slides are available for download. A series of short interviews with a number of the speakers highlighting some of the issues raised during discussions is also available.