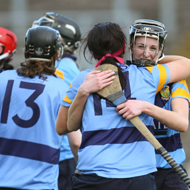 Ashbourne Cup Qualifer
UCD 1-04 UCC 0-12
UCC opened the scoring with a point. We then won a free around the 45 and Kate McDonald put it over for UCD'S first score. UCC got another point o and Kate Mcdonald put a 45 over for her second point of teh game. UCD had a lot of scoring chances in the first half, 2 goal chances and a few point chances but couldn't put them away. Half time UCC 3 points, UCD 2 points.
UCC started the second half well scoring a lot of frees!!!
It took UCD a while to score but then Denise McGrath got a point from play. Ciara Ruddy came on and scored a goal and then a point. UCC kept winning frees and pointing them over the bar. Final Sore UCD 1-04 UCC 0-12
Team: Emma Stauntun, Emma Doyle, Gerry Stapleton, Frances Doran, Sandra Tannian, Leann Fennelly, Elaine Tannian, Natalia Hyland, Kate McDonald, Denise McGrath, Eileen McElroy, Emma Flanagan, Eimear O'Connor, Kirstin Farrell, Ruth Kaiser. Subs: Ciara Ruddy for Emma Flanagan, Emma O'Connor for Ruth Kaiser. Rest of the panel: Aisling O'Connor, Katie O'Dwyer, Siobhan Magner, Mary Hayes, Rachel Noctor, Sharon Glynn, Emma Louise Coffey, Alison Murphy, Rachel Murphy, Orna Fennelly, Angela Ryan, Fiona O'Sullivan, Jessie Ryan, Laura Walker, Meave Scannell.
DIVISION 2
OCTOBER 19TH
UCD 2 1-0 V TRINITY 5-09
November 2nd
DIR 5-10 UCD 2-1
DIVISION 1
UUJ 2-05 V UCD 1-11