How can we help?
Personalise your experience - tell us about yourself in the fields below and we'll show you content that's relevant to you.
93%

of UCD graduates

move into employment or further studies within 6 months.
287,000

alumni

across 169 countries.
133

hectares

making UCD one of Europe's largest urban campuses.
29%

of our students

are from outside of Ireland, making UCD a truly global community.
#1

university in Ireland

for graduate employability 2018 & 2019 & 2020.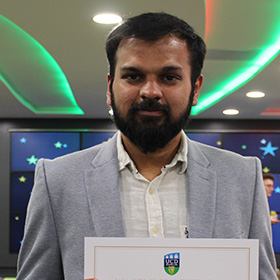 Whether you like traveling, hanging around with friends or getting involved in various activities, never refrain yourself from what you love to do to maintain a study-life balance. Be part of UCD societies and make friends. Dublin is a multicultural and cosmopolitan society with super-friendly locals. You will find a lot of activities and events like those from your home country. Getting involved in such activities will make your social connections wider and make life happier!
Sreeram Chandralal, India, Engineering
Our Students' Journeys
UCD students take many different roads to get to their goals. Here are just some of their stories!
Vicky's Story
V.V. Giri Scholar
Lauren's Story
Protecting Heritage
Ee Ann's Story
Musical Maestro
Sunday's Story
Environmental Protection
In the Beginning

In 2016, Vicky graduated from Savitribai Phule Pune University in India. He was later awarded the prestigious V.V. Giri Scholarship to come to UCD.

Immersing Yourself!

While in UCD, Vicky was the Public Relation Officer of the UCD Indian Society, Treasurer of the UCD Cricket Club and a Global Ambassador for UCD.

Living the Dream

Graduating with an ME in Mechanical Engineering, Vicky now works for multinational Proctor & Gamble.
The Start of the Journey

After graduating high school, started a BA in History at UCD.

Working at Stanford

Upon graduation, returned to the USA to take up a position in Stanford University's Heritage Services.

Postgrad Studies

Currently undertaking UCD's online Master's in World Heritage Management.
Up, Up and Away!

Spent five years travelling the world as part of Singapore Airlines and Air Asia's cabin crew.

Musical Maestro

Awarded a Global Excellence Scholarship to come to UCD to study for a BA in Music.

The Sky's the Limit

Ee Ann is part of the UCD Choir, and wants to teach music for free to underprivileged children when he is financially stable.
Inspired by the World

Sunday worked a Health, Safety and Environment Officer for a construction company in Nigeria, but identified a global environmental issue that inspired him to pursue a MSc in Environmental Policy at UCD.

The Irish Experience

Thanks to a warm welcome and supports from the people at UCD, he settled quickly and success followed!

Working, and a PhD!

Sunday currently works as an Environmental Officer with a Federal government authority in Nigeria, and is pursuing a PhD in his spare time.