The Healthy UCD Step Challenge
The Healthy UCD Challenge, a joint initiative from Healthy UCD and Culture & Engagement, has now concluded. Over 6 weeks, 330 participants with teams from Ireland, North America and China took part in this step challenge, with almost 130 million steps reached! Congratulations to 'Game of Tones' who came top of the leaderboard with 4,373,582 steps and were each given vouchers for Chopped and the Lunchtime Markets. Thanks to everyone who took part in the Healthy UCD challenge. We really hope you enjoyed it, got those extra steps into your day and were able to meet some colleagues across UCD. Check out UCD HR Culture and Engagement to see where your team came on the leader board!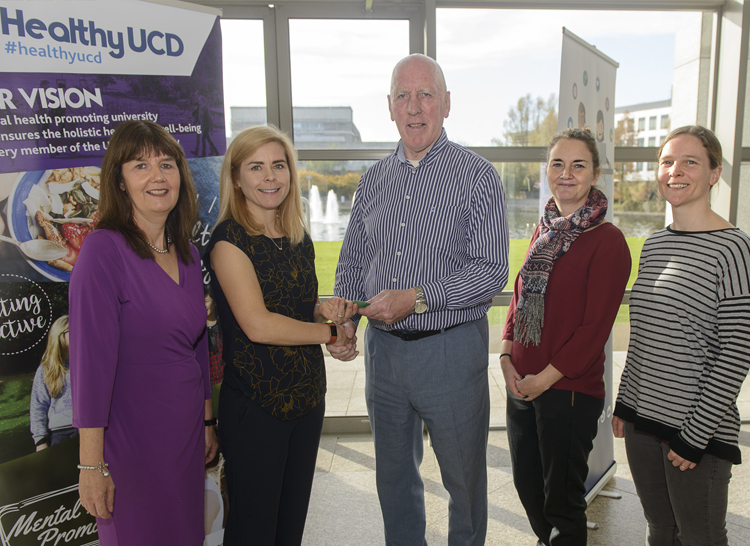 Director of Health Promotion UCD Brian Mullins with the Healthy UCD Step Challenge Winners Game of Tones
In conjuntion with the Healthy UCD Step Challenge, a series of 40 minute lunchtime seminars took place over the month of October with details below.
Seminar 1: Eat Smart by Prof Clare Corish: How to achieve work-diet balance in UCD‌
Seminar 2: Work-related stressors, manifestations and solutions- Patricia Murray
Seminar 3: Turning good intentions into sustained action byDr. James Matthews: Physical Activity and the Role of Psychology‌
Check out our blog series here on the Healthy UCD Challenge and Seminars!