IBIS / INTERTRADEIRELAND / UNIVERSITIES IRELAND EVENING LECTURE
Cross-Border Relations: Steps Towards Change
Royal Irish Academy
Thursday, 10 December 2009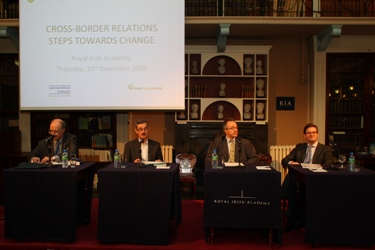 Participants in the evening lecture were (l-r): Deaglan de Breadun, Dick Spring, Quintin Oliver and Julian King
IBIS, in assocation with InterTradeIreland and Universities Ireland held an evening lecture on Thursday, 10th December at the Royal Irish Academy, Dublin entitled 'Cross-Border Relations: Steps Towards Change'. The keynote speaker for the event was Mr Dick Spring, former Tanaiste and Minister for Foreign Affairs in successive Irish governments. Mr Spring focused on his experience of change in North-South relations during his periods in government (1980s and 1990s). Mr Deaglan de Breadun of the Irish Times followed Mr Spring's address, looking at these and later changes. Following a lively Q & A session, closing comments were made by the British Ambassador, HE Mr Julian King. The chair for the evening was Mr Quintin Oliver, director of Stratagem Ireland, who provided a civil-society focus.
This lecture is in the context of a research project being conducted in the Institute for British-Irish Studies (IBIS) at University College Dublin entitled: Breaking the patterns of conflict: The Irish state, the British dimension and the Northern Ireland conflict. The project is funded by the Irish Research Council for the Humanities and Social Sciences. This evening lecture is conceived under the specific sub-theme of 'The private sector, cross-border cooperation and the Northen Ireland peace process in the 1980s and 1990s'.
IBIS would also like to acknowledge support from the Department of Foreign Affairs' Reconciliation Fund.
Image Gallery - Please click on each image to enlarge