IBIS/IRISH ASSOCIATION LECTURE
North-South Relations after the Boom: The Impact of the Credit Crunch on Mutual Relations and Understandings
Newman House
2 April 2009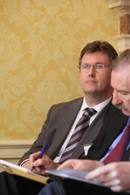 Jeffrey Donaldson and Mike Smyth at the IBIS-Irish Association joint lecture
For over a decade, the 'Celtic tiger' era in the Irish state gave a different complexion to North-South relations. Older stereotypes of a backward, rural South were evidently refuted. The Irish international profile, Irish pro-activeness in European affairs, rapid immigration and social change, and Irish spending allowed a very different interrelationship of Irish politicians and officials with unionists and nationalists and different mutual perceptions by the populations.
All of this has changed. What is left? Is the change of mutual perceptions irreversible? Is the substance of North-South relations independent of economic cycles? How will the new politicisation of economic issues impact on internal Northern Ireland and North-South relations?
These were just some of the questions posed at the evening lecture on 2nd April, 2009, jointly hosted by IBIS and The Irish Association, entitled 'North-South relations after the boom: the impact of the credit crunch on mutual relations and understandings'.
Click below for a podcast of the lecture - 1hr 48 mins
Audio will play here
Image Gallery - Click each image to enlarge