JUDGING LEMASS: THE MEASURE OF THE MAN
By Tom Garvin
Launched at the Royal Irish Academy
29 September 2009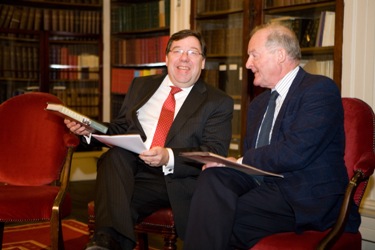 An Taoiseach, Brian Cowen, TD with author Tom Garvin
On 29 September 2009, An Taoiseach, Mr Brian Cowen, TD, launched Judging Lemass: The Measure of the Man by Professor Tom Garvin at the Royal Irish Academy.
An almost mythical narrative has grown up around Seán Lemass and his short career as Taoiseach from 1959 to 1966. He was responsible for not one, but two economic revolutions in Ireland during his time in the Department of Industry and Commerce. This period marked the beginning of a long process that has transformed the island of Ireland from an agrarian province of the British Isles to a successful developed country which has been seen as a model for many aspirant underdeveloped countries. He instigated a new era in North-South relations and began the overhaul of the educational system. In Judging Lemass, renowned historian, Tom Garvin, introduces the many facets of Seán F. Lemass – a "cusp" figure who ushered in the modern world; a visionary who was imagining a "United States of Europe" since the 1920s; a sharp dresser with a striking "film noir" style; an ex-revolutionary; a city man, who regarded rural Ireland as somewhat alien and agriculture as a drag on economic development; and, above all, the architect of modern Ireland.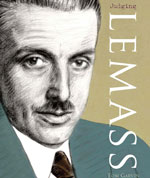 Tom Garvin is Emeritus Professor of Politics at UCD and an honorary research fellow at IBIS. He has published extensively on Irish politics, and is the author of The evolution of Irish nationalist politics (Gill and Macmillan, 1981), Nationalist revolutionaries in Ireland 1858-1928 (Clarendon Press, 1987) and 1922: the birth of Irish democracy (Gill and Macmillan, 1996). His Preventing the future: why was Ireland so poor for so long? was published by Gill and Macmillan in 2004. Most recently, his biography of Sean Lemass, Judging Lemass, was published by the Royal Irish Academy in 2009. Tom is at present finishing a book on newspapers and public opinion in 1950s Ireland.
Image Gallery - Please click on each image to enlarge
All photographs © John Jordan.Courtesy of the Royal Irish Academy