LAITIN LECTURE
Sons of the Soil, Immigrants and Civil War
Global Irish Institute
3 February 2009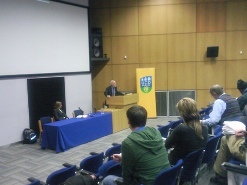 Professor David D Laitin addressing the audience at the Sons of the Soil, Immigrants and Civil War public lecture at the Global Irish Institute
IBIS was delighted to host world-renowned political scientist Professor David D Laitin of Stanford University. During Professor Laitin's week-long visit to UCD, made possible by an IRCHSS visiting fellowship, he gave a public lecture at the Global Irish Institute on Tuesday, 3rd February, 2009. Entitled 'Sons of the Soil, Immigrants and Civil War', it examined what differentiates countries that have suffered from civil wars from those that have not.
Professor Laitin is one of the most prestigious and original political scientists in contemporary academic life. His most recent book is Nations States and Violence published last year by Oxford UP. In addition, he has worked on ethnic distinction in Nigeria, on identity change in the successor states of the Soviet Union, on civil wars, on ethnic coexistence, on institutional change, on suicide bombings and much else. Much of his most important work is in the area of conflict, violence and ethnic distinction. Thanks to an IRCHSS visiting fellowship, which we gratefully acknowledge, UCD was fortunate to have him for the week of February 2nd, 2009. He was hosted by our own specialists in the areas of conflict in IBIS, SPIRe, CHS and GII, not simply staff members but also over a dozen post-graduates and post-doctoral scholars in the field, who benefited enormously from his presence.
Professor Laitin works within a constructivist research agenda, within strict political science methodological constraints. Much of his work focuses on ethnic categorisation and ethnic change – why the Yoruba divide on 'ancestral city' rather than religious cleavages, how 'Russians' come to redefine themselves as 'Russian speakers' in the now-independent states of the ex-USSR. In his major work, Identity in Formation (Cornell, 1998) Laitin wrote that one of the most important items on the contemporary research agenda is to show how individual choice connects with collective outcomes. In attempting this, Laitin combines a rational choice methodology with an ethnographic cultural sensitivity, showing how particular incentives can lead to cascades of change. His work is highly original in perspective, at once alert to the cultural distinctions made by the actors at the micro-level, rigorously comparative, and historically informed. His study of the Yoruba has been cited as exemplary in producing comparative political science with a one-country focus, comparing different time periods and regions. More recently, his comparisons have spanned centuries and continents. Professor Laitin is one of the few contemporary political scientists who consistently breaks new ground within the strictest of political science disciplinary constraints.
In his recent work, and in this lecture, Laitin focuses on violence, arguing that the major contemporary research question is when and why violence takes place. Summarising the results of a joint research project undertaken with James Fearon of Stanford University, he addressed the question: What causes civil wars? Beginning with statistical analysis he went on to explain why grievances by "sons of the soil" against immigrants often leads to rebellion.
To view Professor Laitin's powerpoint presentation click here.
To listen to Professor Laitin's lecture please click on the links below (each link is approximately 20 mins duration).
Audio will play here
Audio will play here
Audio will play here